Partner with Impact.
Environmental sustainability. Social equity. Responsible corporate citizenship. Accountable leadership. Share your commitment to these values and drive your organization's performance as you help mold the business leaders of tomorrow through a partnership with the Emmanuel Business Collaborative.
The work of the Emmanuel Business Collaborative is generously supported by a 10-year, $500,000 Cummings Foundation grant.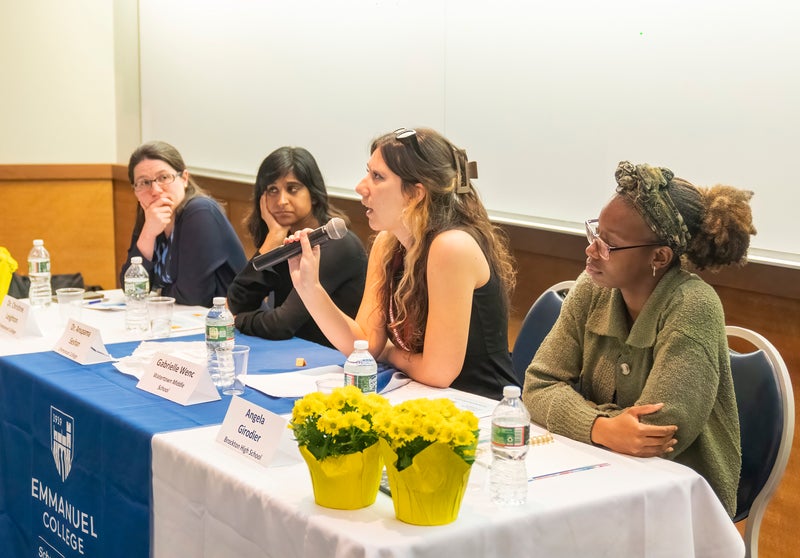 A Competitive Advantage
The Emmanuel Business Collaborative seeks to develop strategic partnerships with local business and industry organizations who share Emmanuel's strong commitment to social justice, diversity, inclusion and service.
A mutually beneficial partnership
The Emmanuel Business Collaborative is designed to maximize the opportunities to match businesses with the resources that can be offered by the Emmanuel Business Collaborative and Emmanuel students.
The Emmanuel Business Collaborative is a center for creative learning and research, oriented toward molding future business leaders. Partnering organizations gain valuable insights and outcomes from the various opportunities offered through the Emmanuel Business Collaborative, including yielding new knowledge and resources they can leverage to impact business results.
Advantages include:
Custom business consultative services
Establishment of an intern/employee pipeline
Recognition as community thought leader
Collaborative research initiatives
Access to campus resources and services
The classroom can equip future leaders with the analytical tools that can inform many business decisions, but only experience can build behaviors and traits that define ethical leadership. Our goal is to provide forums and practical experiences that will allow students to acquire these needed skills for principled leadership.
The Emmanuel Business Collaborative places interaction between future leaders and the current business environment at its core. Activities and research generated through the Emmanuel Business Collaborative will strive to provide future leaders with experiences meant to inform business decisions with a social and ethical context. These experiences will provide a framework of business practices that future leaders can leverage to integrate operations of businesses into the needs of larger society.
Spotlight Speaker: Moderna's Dr. Noubar Afeyan
Dr. Noubar Afeyan, co-founder and chairman of Moderna and founder and CEO of Flagship Pioneering, shared how his commitment to improving the human condition through science and business goes hand in hand with social investments and global initiative.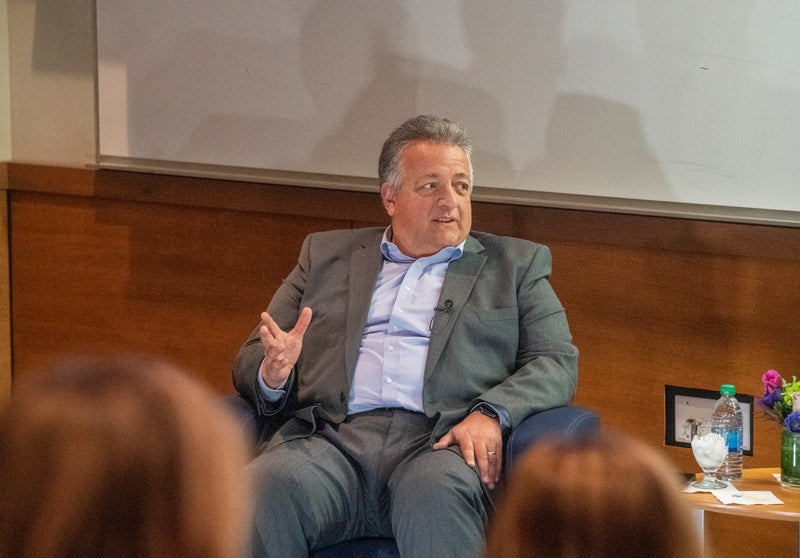 Ways to Engage
Whether you seek to open the doors to your own business or engage in the broader, ongoing conversations about ethical business practices, the Emmanuel Business Collaborative offers an expanding catalog of opportunities for organizations to get involved.
Live Case Studies
Students work with a local business partner serving as a client, offering consultative services to assess a real-life business challenge facing the organization. Integral to each case is knowledge of personal and corporate social responsibility; all organizational partners are either MBW/WBE, Not-For-Profits and/or have social justice imbedded in their mission.
Guided Internships
Under the supervision of a faculty member, students work closely with a local business leader on a specific business initiative; they identify an issue, craft a set of recommendations, and develop a plan for implementation.
Seminars, Symposia and Conferences
Seminars, Symposia and Conferences
These ongoing community events address relevant topics within today's business world and bring together local business leaders to explore real-world perspectives.
Original Research
The Emmanuel Business Collaborative serves as a destination for the larger business community to present current research on the effects of social values and practices on business performance and leadership.
Discovery Lab
Emmanuel has a fully equipped Discovery Lab makerspace on campus that can be utilized by entrepreneurs needing equipment and space to launch their venture.
Coming Soon
The Emmanuel Business Collaborative Fellowship Program, Underclassmen Competitions, Entrepreneurial Incubator Projects, Entrepreneur-in-Residence Program, Mentorship Programs, and more.
Our Partners
The Emmanuel Business Collaborative engages with a diverse range of innovative Boston-area organizations.
Inquire Today
If you are a local business interested in learning more about a partnership with the Emmanuel Business Collaborative, please complete the form below or connect directly with a member of the Emmanuel Business Collaborative.