St. Julie Hall is an 18-story, apartment-style residence hall housing our upper-class students.
The combination of two-bedroom (four students) and studio (one student) units houses 430 students. Each furnished apartment is also equipped with a washer and dryer, dishwasher, stove, refrigerator, and private bathrooms.
St. Julie Hall is Emmanuel's first non-traditional housing option for our upper-class students. Opened in August 2018, this LEED-certified building features contemporary apartment-style living spaces.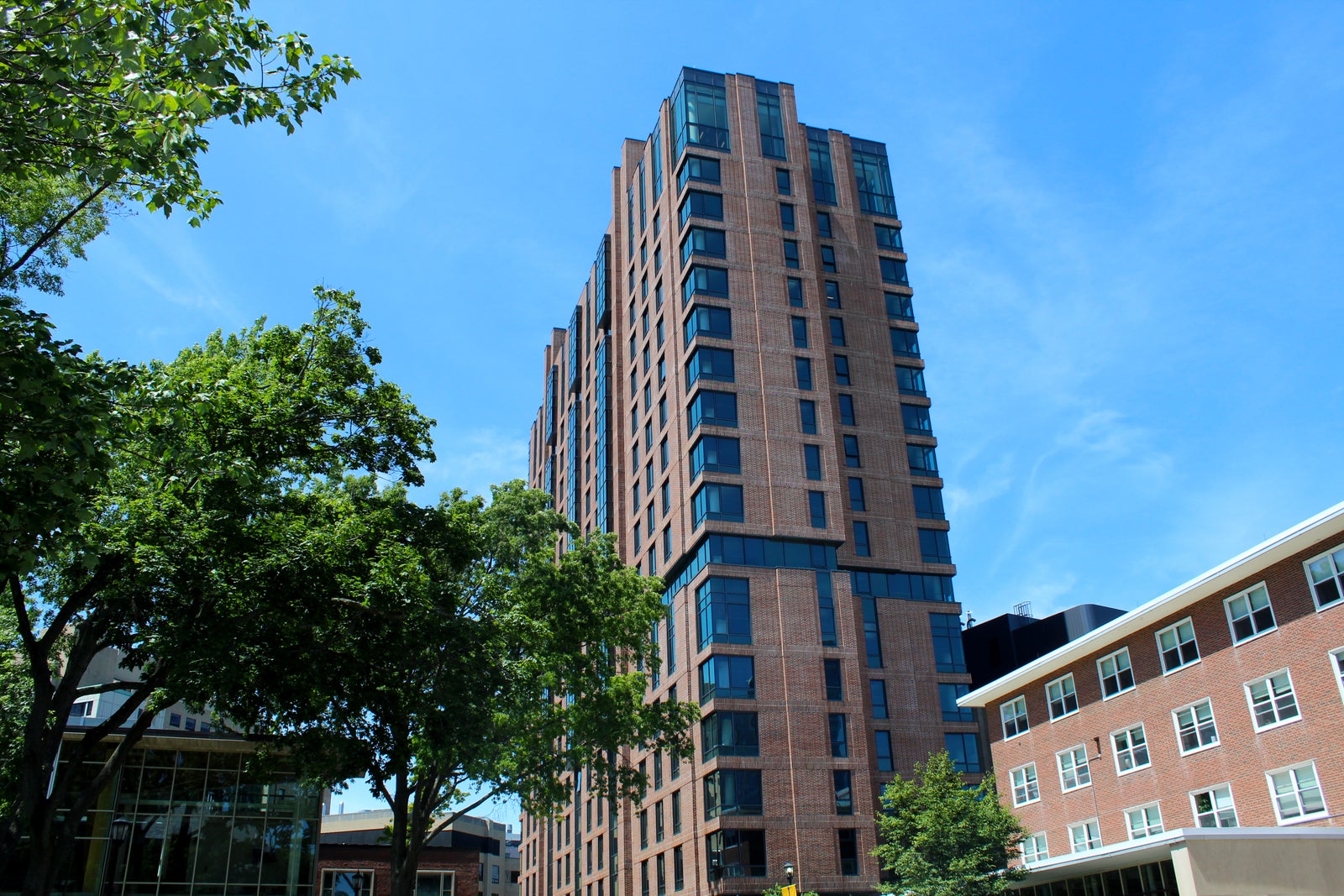 Inside St. Julie Hall
All apartments are fully furnished. Student are not permitted to bring their own mattresses. Residence Life will not remove any provided furniture from the room.

Below find what furniture and amenities are included by room type. Please note size and layout is subject change based on location in the building.
4-person apartment (double occupancy bedroom)
BEDROOM
(2) Beds
(2) Dressers
(2) Desks and chairs
LIVING ROOM
Couch
Chair
Coffee table
End table
KITCHEN
Kitchen table
(4) kitchen table chairs
Refrigerator
Oven
Dishwasher
OTHER
Washer and dryer in unit
(2) full bathrooms
Blinds on all windows

Studio apartment (single occupancy)
Bed
Dresser
Chair
Kitchen table
(2) kitchen table chairs
Refrigerator
Oven
Dishwasher
(1) full bathroom
Washer and dryer
Blinds on all windows
Please note: studio apartment furnishings do not include a desk.
The spaces in the first floor Atrium are available to all members of the Emmanuel community. These spaces include:
The Plaza - The open-air Plaza serves as a central gathering place on the residential side of campus—meet after class to discuss dinner plans or just experience the energy of the EC community
Brookline Avenue Patio - Bring a book or a laptop and enjoy some fresh air (along with your Dunkin' Donuts coffee)
Dunkin' Donuts - Located across from Joe Di's, Dunkin' has all your local favorites available!
Joe Di's Food Mart - This new convenience store provides to-go meal options, snacks, groceries and other necessities
Margaret L. McKenna '83 Media Center - Located in the center of the Atrium, the Margaret L. McKenna '83 Media Center is an all-purpose room equipped with flat-panel displays for studying, meeting and presentations
The Plaza Lounge, Brookline Avenue Lounge and Group Study Rooms - St. Julie Hall includes space for independent study and group projects, complete with printers
Fitness Center - The Fitness Center includes state-of-the-art equipment for cardiovascular and weight training
Dance Studio - Ideal for dance, yoga and other fitness classes, the Dance Studio includes a changing room, mirrored wall and rubber floor
110-space bicycle rack
The building also offers the exciting opportunity to deepen our partnership with one of Emmanuel's fellow COF members, MCPHS University, who will lease a number of beds for their first-year and returning students. This partnership also aligns both institutions with the City's goals for colleges to house undergraduate students on campus.
The Saint Julie Hall is currently staffed by the Associate Director of Residence Life, a part-time graduate assistant and seven resident assistants. Staff offices are located on the first floor near the front desk. The St. Julie Hall staff is always ready to meet a new face! Stop by and say, "Hello!"