About the Sisters of Notre Dame de Namur
Mission Statement: Sisters of Notre Dame de Namur, women with hearts as wide as the world, make known God's goodness and love of the poor through a Gospel way of life, community and prayer. Continuing a strong educational tradition, we take our stand with poor people, especially women and children, in the most abandoned places. Each of us commits her one and only life to work with others to create justice and peace for all.
St. Julie Billiart founded the Sisters of Notre Dame de Namur with the aid of Françoise Blin de Bourdon in 1804. Motivated by the desire "to make known God's goodness," St. Julie established a Catholic religious congregation that today serves on five continents — Africa, Asia, Europe, North America and South America. From the beginning, St. Julie and Françoise were convinced of education's power to help individuals to lead lives of freedom and human dignity. Their passion for teaching and learning is enshrined in the constitution of the Sisters of Notre Dame, which describes education as "fundamental to bringing about the reign of God."
Many of the principles St. Julie and Françoise established for the Sisters of Notre Dame more than 200 years ago still characterize the Congregation to this day: a passion for education as "the greatest work on earth," a commitment to the poor, a global apostolic mission, a life that balances prayer and action, a focus on community building, and an abiding and deeply rooted trust in the goodness of God.
The first Sisters to come to America settled in Cincinnati in 1840. Nine years later, members of the Congregation came to Boston, where they taught at St. Mary School in the North End. From there, they established schools in Cambridge and Somerville and in mill towns such as Lynn, Lowell, Lawrence, Chicopee and Springfield.
In 1919, the Sisters founded Emmanuel College, the flagship SND institution of higher education in North America. Today, members of the Emmanuel community continue to live out the mission of the Sisters of Notre Dame de Namur through education, a commitment to social justice and a longstanding tradition of service to the wider Boston community.
1993: Our First Founders' Day in honor of St. Julie Billiart and the Sisters of Notre Dame de Namur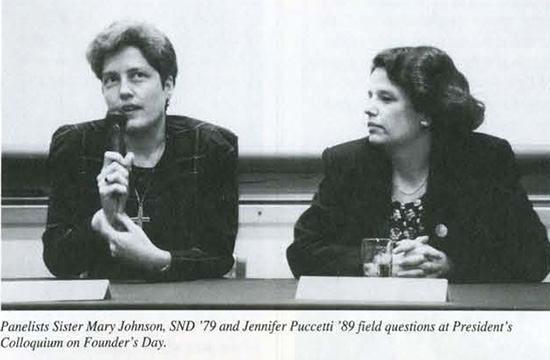 Sisters of Notre Dame de Namur during President Boyd's Inauguration on April 14th, 2023