St. Ann Hall is a four-story, non-air conditioned residence hall housing approximately 225 students. This is a co-ed building and part of Emmanuel's first-year residential experience.
Each floor houses 40 to 60 residents who share single-sex bathrooms, fully-equipped kitchens and laundry facilities.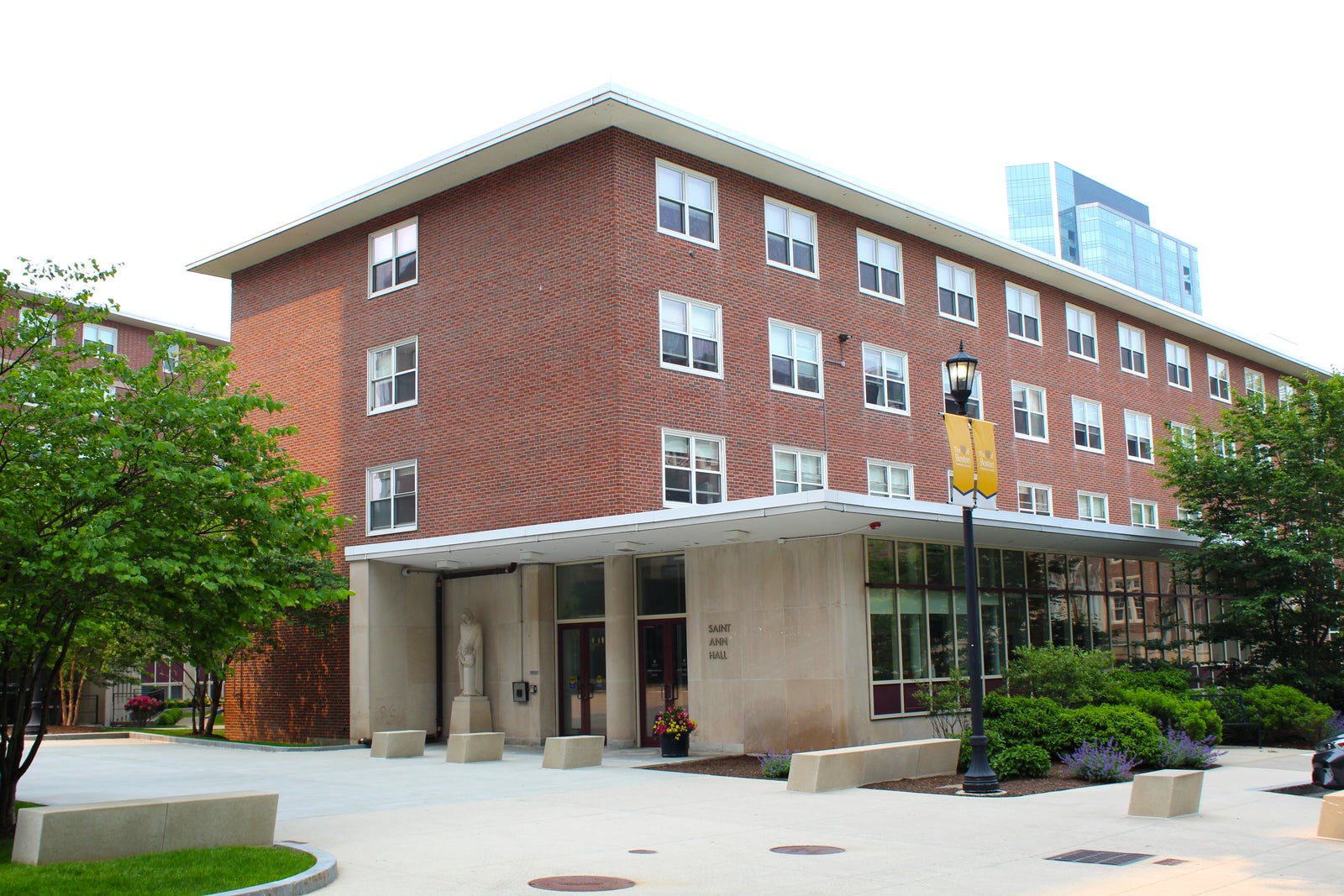 Our residence halls have a variety of amenities, including:      
First Floor
Lounge with a large-screen television, vending machines, computers and printing stations. This is where students can study and spend time with each other outside their rooms. Resident Assistants also host programs for their residents here.

Front Desk
Security card access to front doors

Elevators in every hall

Bathrooms on every floor

Planned community events

Digital payment laundry services

All utilities included (no additional costs for IP-TV service, high speed internet, heat, electricity, water, etc.)
Common areas
Study lounge

Kitchen and dining areas - with fridge, microwave, stove/oven, etc.

Social lounges with game tables and big-screen televisions

In-hall fitness centers (St. Joseph Hall and St. Julie Hall)

Group/Organization meeting rooms

Vending machines
Lock-out service
Staff is available to assist with room re-entry if you forget your ID.
Mail
Convenient on-campus locations for sending and receiving mail.
Housekeeping and maintenance
A crew of housekeeping personnel clean the bathrooms and common areas daily. If something breaks in your room, you can put in a work order with your RA and it will be fixed by our Facilities Department.
Residential communities
Emmanuel offers residential living communities to help maximize your college living and learning experiences.
Visitation hours
Controlled visitation hours and regulations help to accommodate resident's desire for visitation as well as protect their right to privacy.
The average room in a residence hall measures 11' x 18' (3.3 m x 5.5 m).

Floorplan of an average double room:

Average room dimensions: 11' x 18' (3.3 m x 5.5 m)
Average window dimensions: Width: 6' (188 cm) Height: 4'8" (142 cm)
Average bed dimensions: Length: 79 inches (201 cm)
Mattress size: 80" x 36" (extra long twin sheets)
All bedrooms are fully furnished. Students are not permitted to bring their own mattresses. Residence Life will not remove any provided furniture from the room. Below please find what furniture is included by room type:
Double room
2 twin beds

2 desks and chairs

2 dressers

2 closets or wardrobes

shelves

overhead light
Triple room
3 twin beds

3 desks and chairs

2 dressers

2 closets or wardrobes

shelves

overhead light
St. Ann Hall has a staff of eight Resident Assistants and an Assistant Director/Resident Director who live in the building. The staff is available to help students who want to talk about any issue, desire tips for successful studying, want to enjoy a philosophical discussion, are accidentally locked out, or want someone to attend a campus activity with. Our staff is here to help you become a part of the St. Ann family and become an involved student of Emmanuel College.