There's a lot to like about living on campus.
You won't find the sophisticated city of Boston, with its 250,000 other college students, outside your front door everywhere. 
You won't find a 17-acre campus, lush with trees and brick buildings everywhere. You won't find Fenway Park just down the street everywhere. But you'll find it all at Emmanuel College.
Each day presents the opportunity to meet new people and the convenience of being so close to class with no commute time. Another plus? Living on campus is truly the most affordable way to live while attending college in the city of Boston.
Campus Living
Luke Patriquin '23
Fun Times Playing Flag Football
Flag Football Tournament!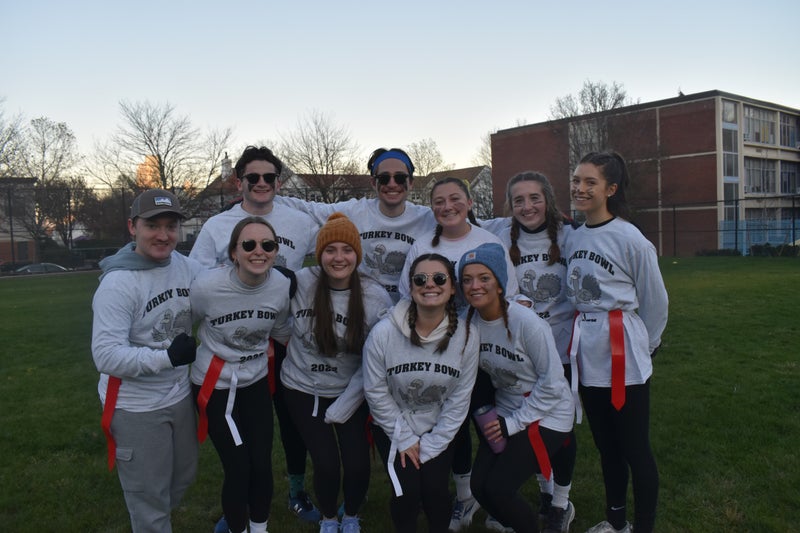 Kasey Jiang '23
Fun Adventures in the City
"One example of many of the times I went on fun adventures with a friend/friends. My friends and I went around Boston and walked around the Boston Common and Garden then came back took this picture of my friend and I around Fenway". - Kasey Jiang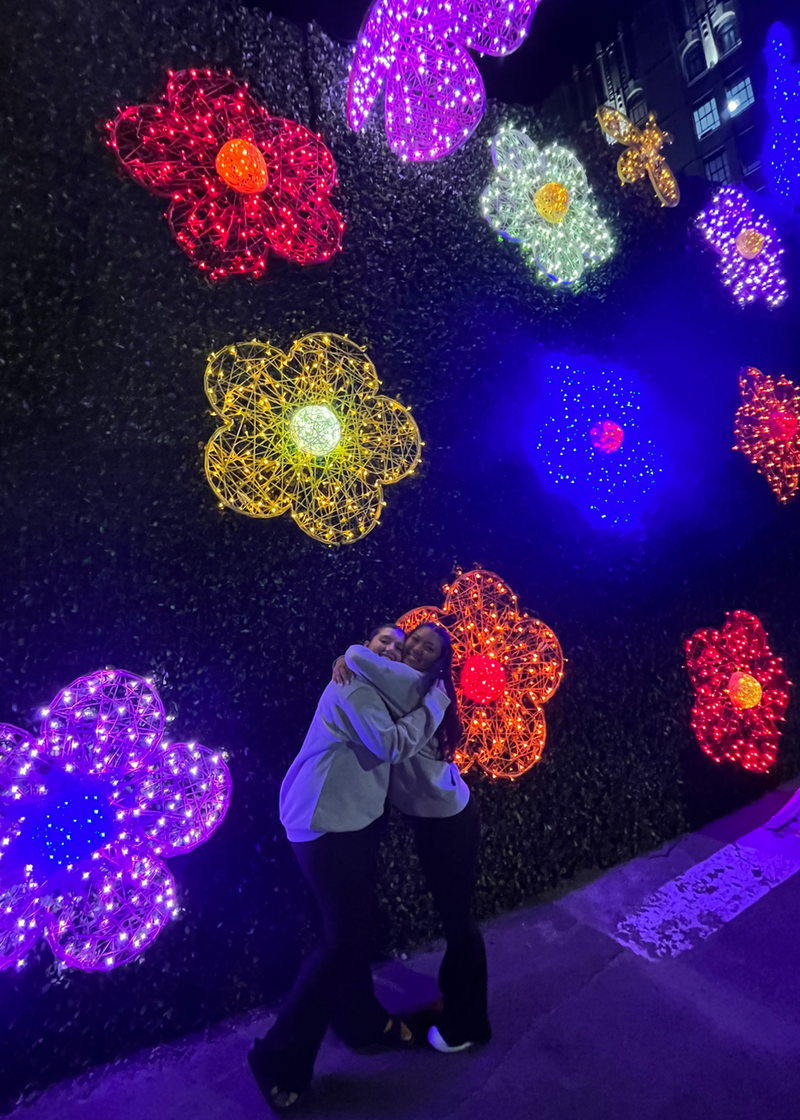 Gwen Freeman '23
Spring has Sprung in Boston!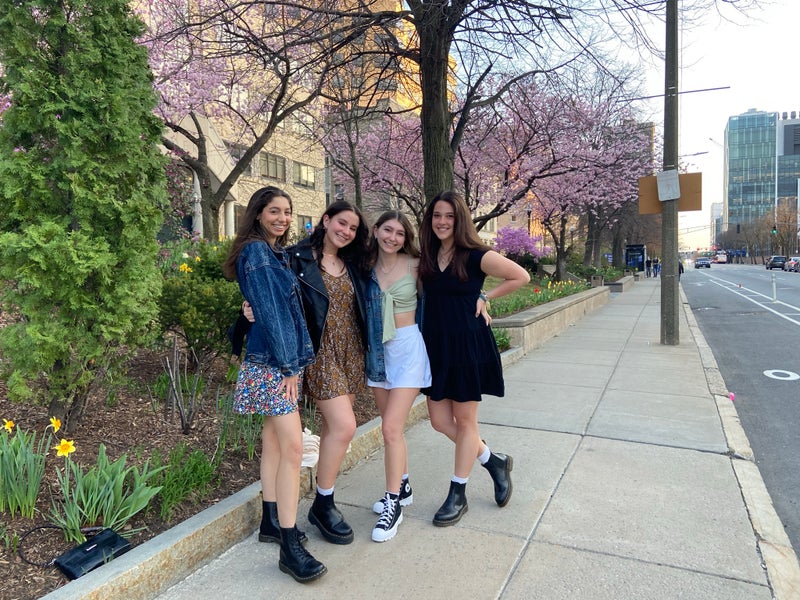 Casey Phillips '23
ASB in Phoenix, Arizona
"My senior year I attended alternative spring break and traveled to Phoenix Arizona to serve individual's experiencing homelessness at a place called André House! it was definitely an experience I will never forget!" - Casey Phillips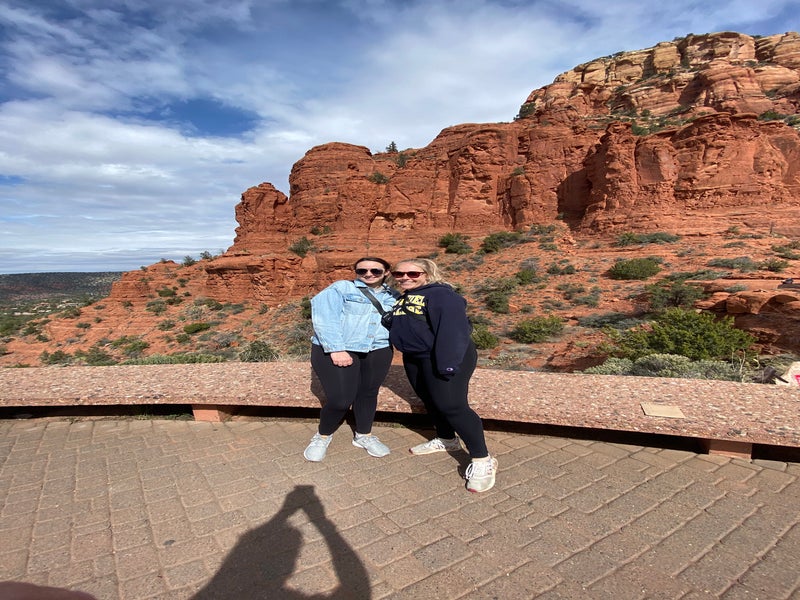 Victoria Slattery '23
Families Coming Together for Junior Pinning
"Junior Pinning is something I will always remember. While receiving my pin was fun and exciting, my favorite part was all of my friends' families coming together to celebrate! As our parents took photos, I felt so loved and accomplished." - Victoria Slattery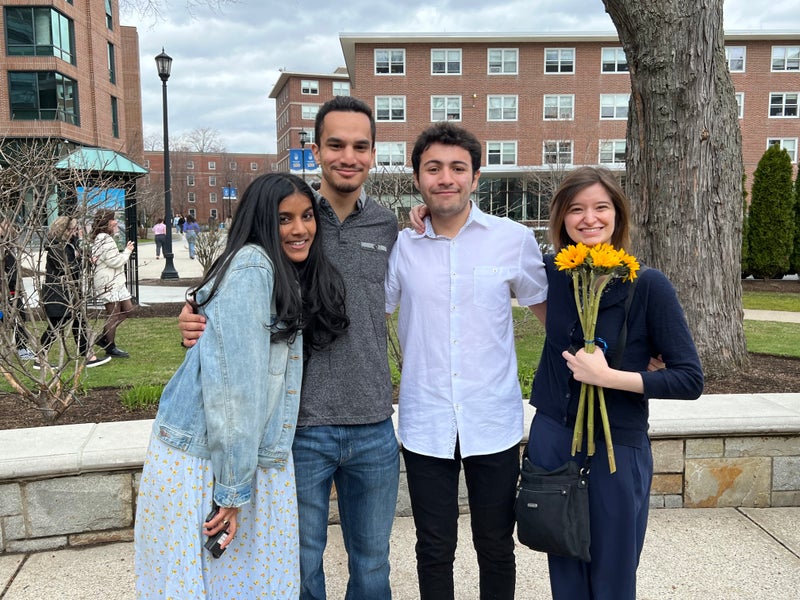 Carly Snyder '23
A Special Junior Pinning with Friends!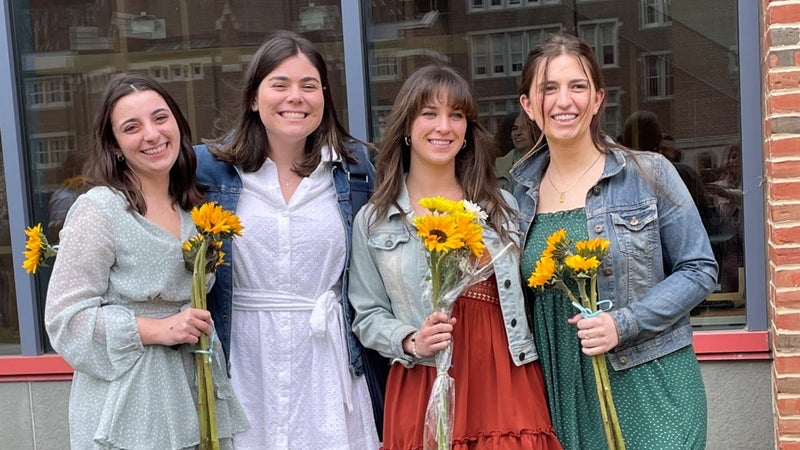 Tianna Dawe '23
History Made with Softball Team!
"My sophomore year we were the first softball team in school history to win the GNAC and played in the NCAA tournament in Texas! It was an amazing experience and a highlight of my time at Emmanuel. " - Tianna Dawe '23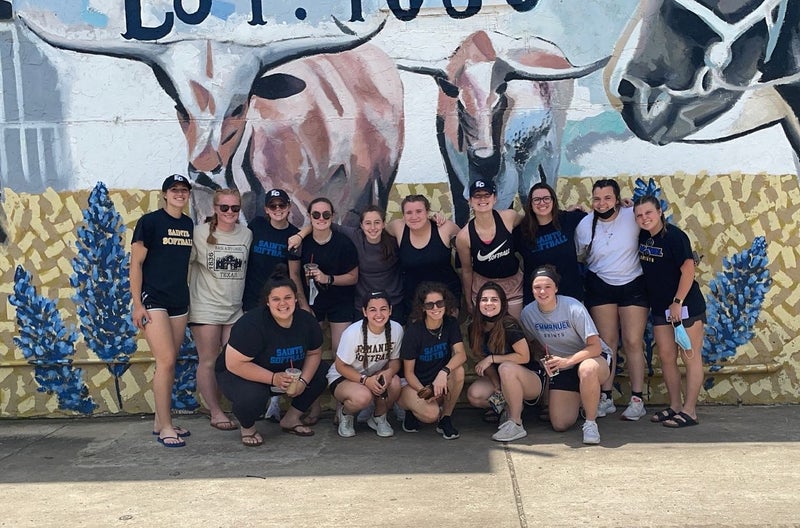 Maeve Grattan '23
ASB in West Virginia
In 2022, I participated in Alternative Spring Break in Anderson, West Virginia. Here we are at Bethlehem Farm!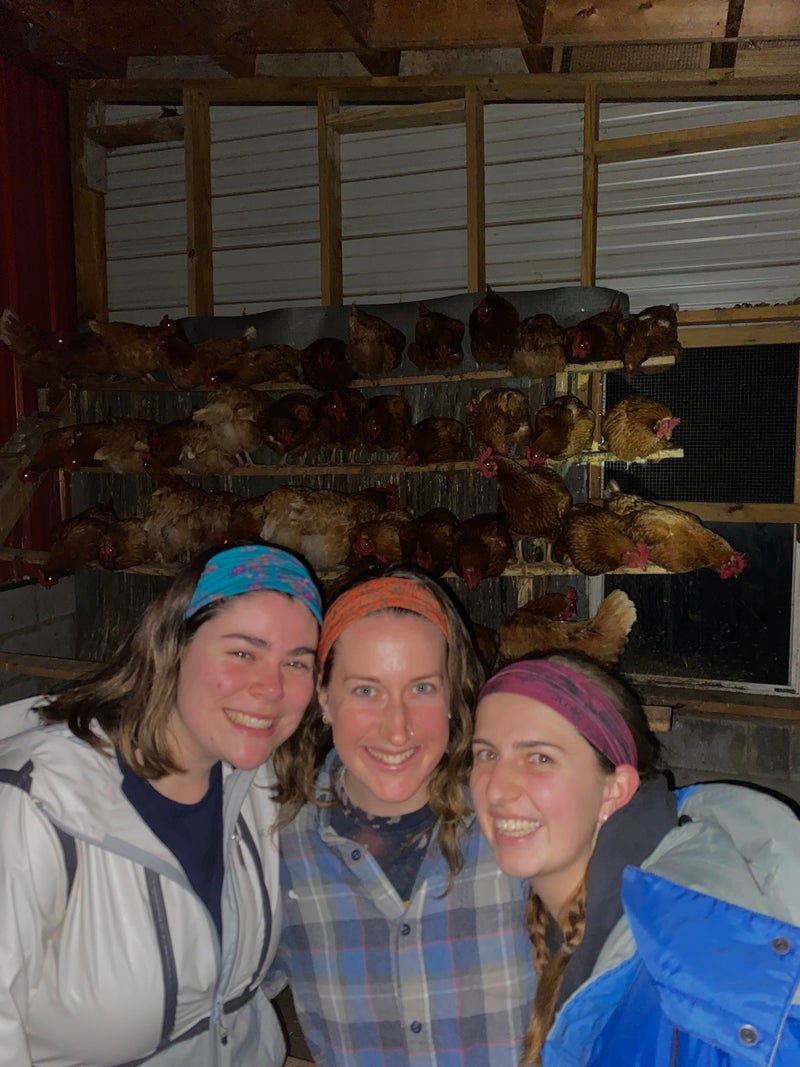 Brendan Kade '23
Teammates to Family
"The memories made with being on the basketball team at Emmanuel and being able to represent my school. I have made long lasting friends because of the basketball team and extremely thankful for the experience". - Brendan Kade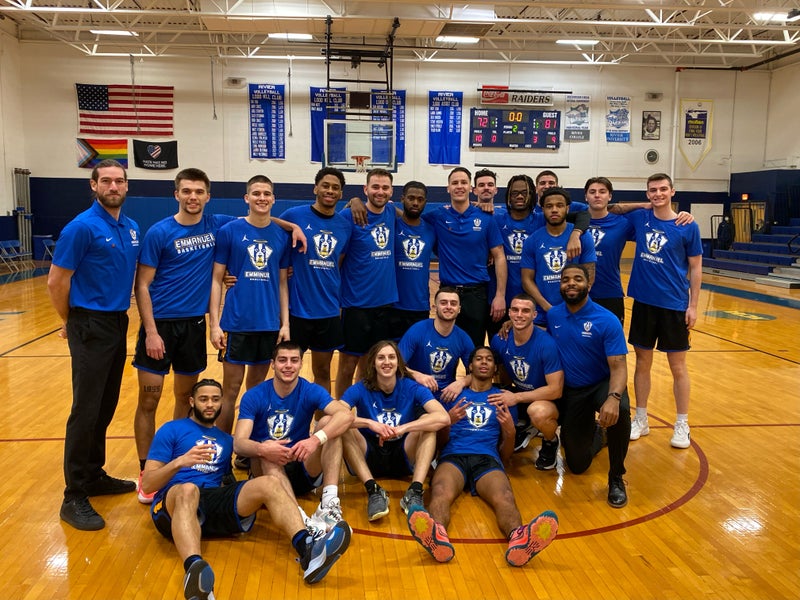 Angelina Latin '24
Moonlight Breakfast Tradition!
One of my favorite on campus traditions is Moonlight Breakfast hosted by the Emmanuel College Programming Team (ECPT). It is one of the many events on campus that focuses on building community while also having fun, especially before finals season. We got to stuff little stuffed animals, have breakfast as a late night meal, while having the opportunity to win some prizes (like Emmanuel gear or a flatscreen TV).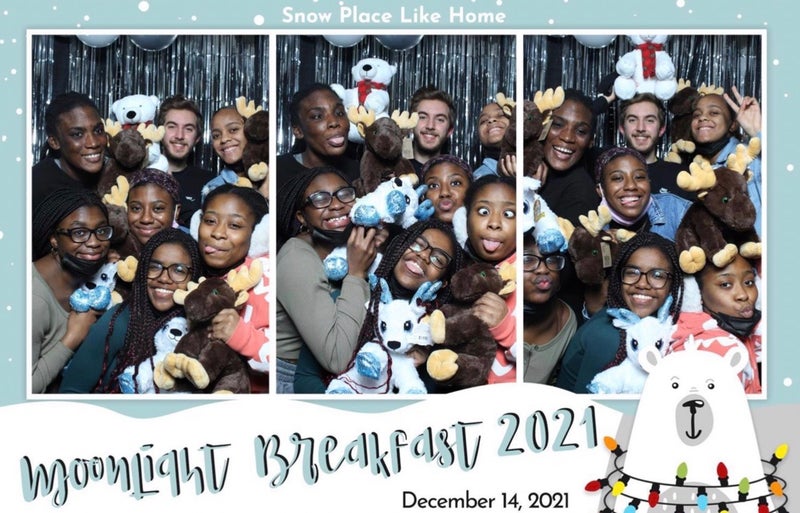 Samantha Jones '23
A Cappella Fun Times
"This is a favorite memory of mine with some of my best friends in For Good Measure after our spring concert last year. I joined this a cappella group because I love to sing but I had no idea how many great memories would come from that decision. I am super grateful I made the decision to join this group because I made so many friends while also getting the opportunity to do something that I love!" - Sam Jones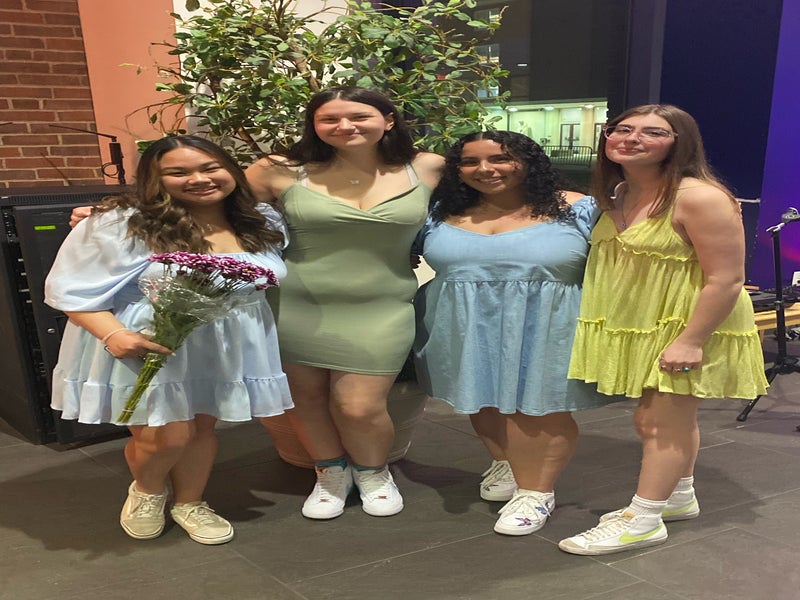 Nick Eline '23
Friends for Life
One of my favorite memories of my first year on campus was making friends with the guys who lived in my hallway. It took me a few months to find the right group for me, but once I did I knew that I had found some friends for life! Every few weeks we would all gather in my room for a movie night, luckily we held one last movie night before we left for spring break, not knowing that we wouldn't see each other for several months.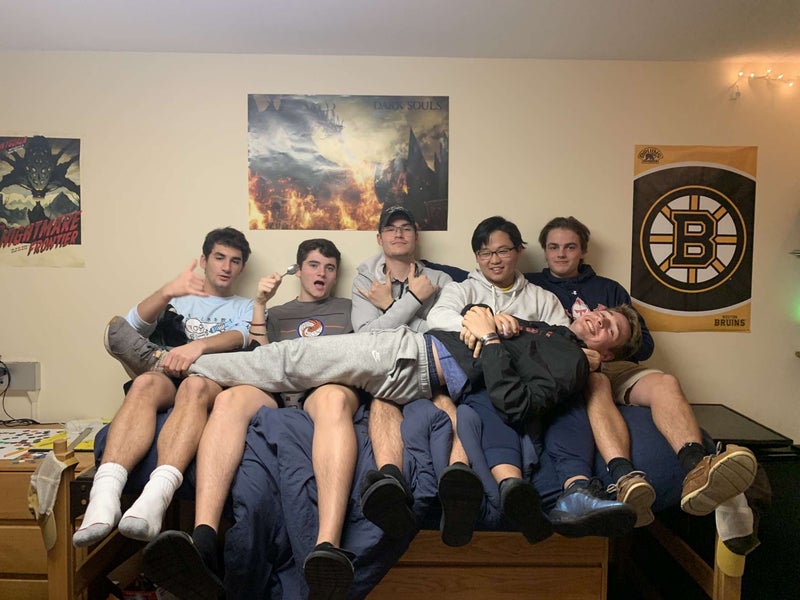 Vanessa Rene '24
Fun Times with ECDT!
The Emmanuel College Dance Team made Top 5 at the 2022 UDA New England Dance Challenge! So Proud Of My Team <3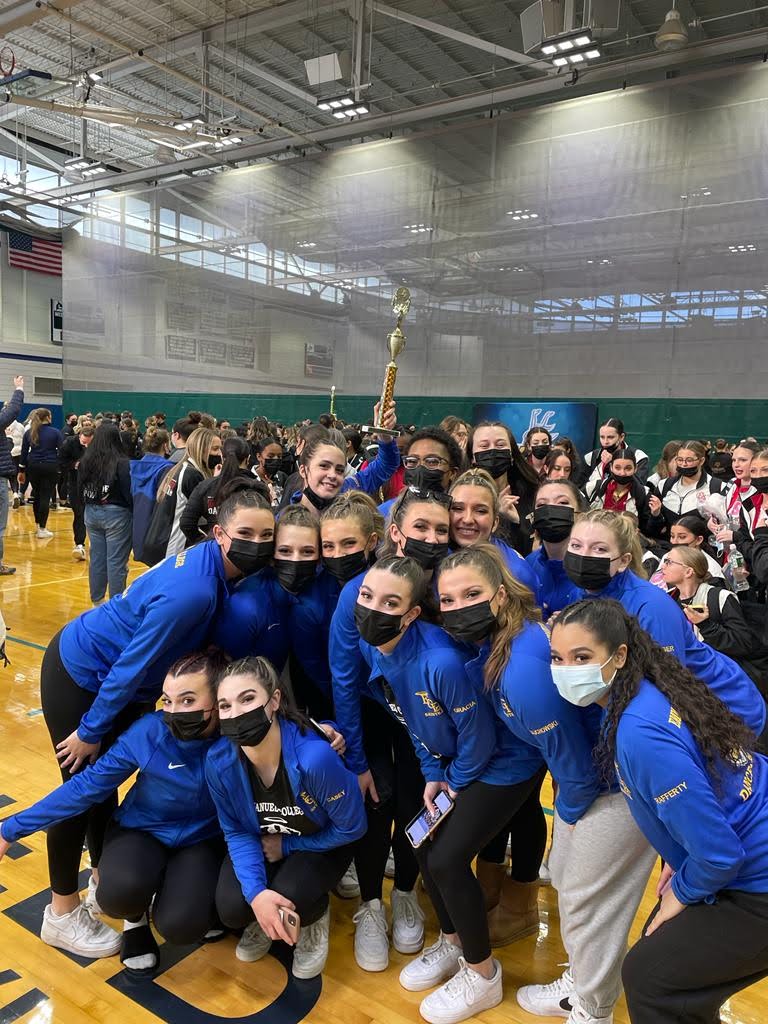 Julia Pellizzaro '24
Best friends exploring Fenway
"Walking around Fenway with my roommate Sam, who has been my best friend since we met freshman year!" - Julia Pellizzaro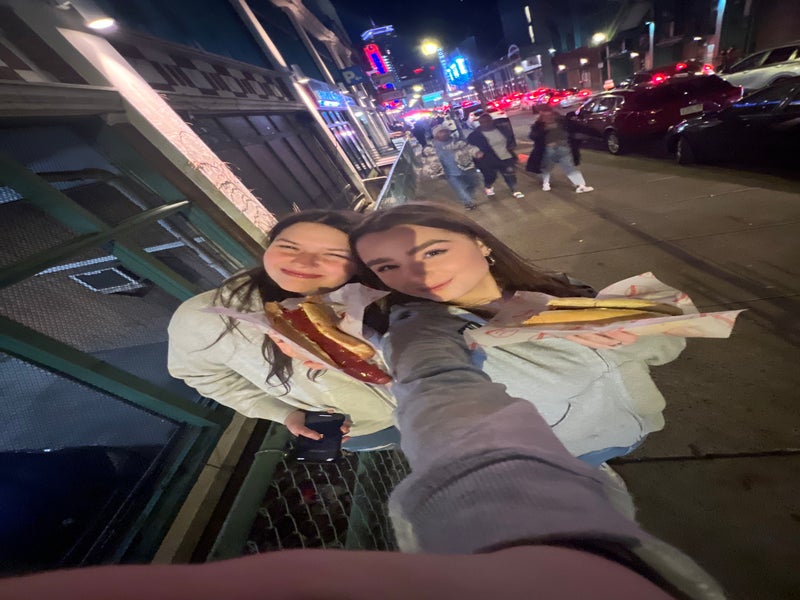 Peter Avila '23
Late night pizza runs!
"Always loved late night snacks at College Pizza!" - Peter Avila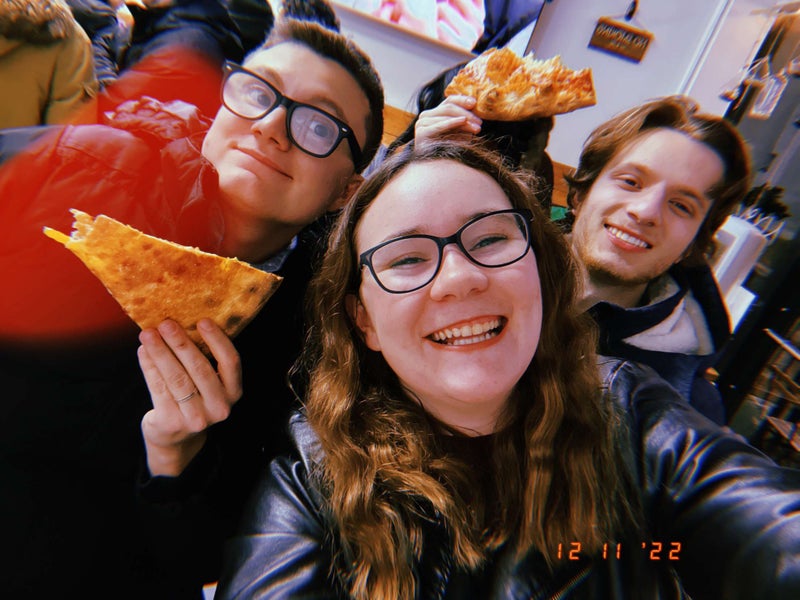 Kelley Kazorek '23
Performer turned into Director
"Finding such an amazing group of friends while performing and working with the theater program has allowed me to meet people I wouldn't have met otherwise from our campus and the rest of the COF. Then directing my first show ever back in February, was such an amazing experience, working with the talented people we have within the program!" - Kelley Kazorek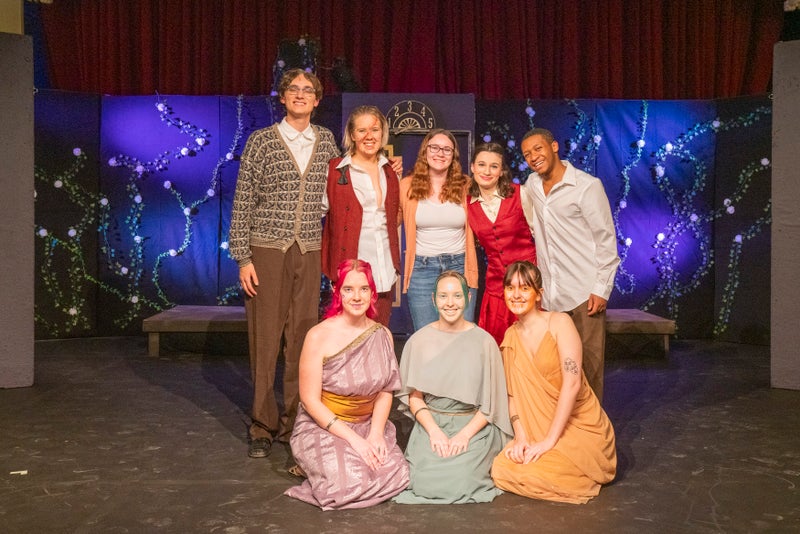 Sophia Jones '24
2022 EC Dance Marathon Fundraising Reveal
We were so happy to fundraise again this year for our neighbors at Boston Children's Hospital! It's always exciting to see the final moments where we reveal the total!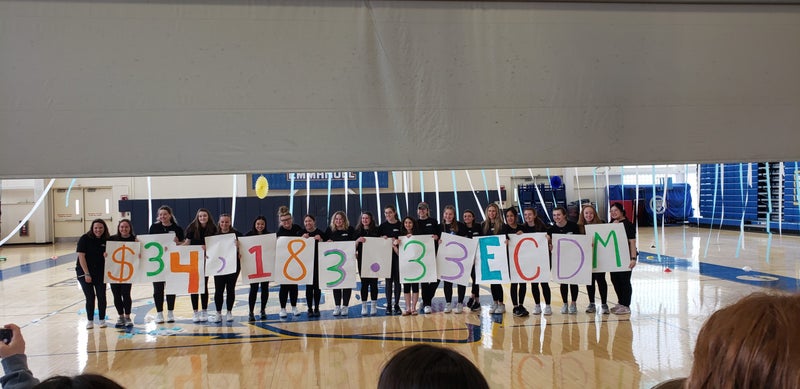 Rocio Hernandez Chavez '23
Coworkers turned friends!
"It was always so much fun working in the Office of Involvement. I've learned a lot of transferable skills that will come in handy as I'm pursuing a career in higher education at Harvard Graduate School of Education next fall! This picture was taken during President Boyd's Inauguration, very busy day, but it was an unforgettable, amazing experience because of the people I was with! " - Ro Chavez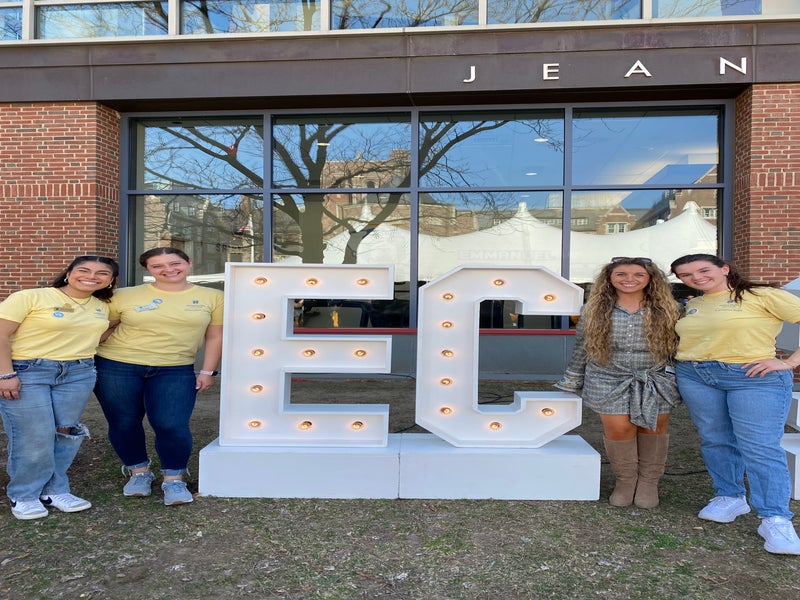 Molly Winship '23
Hard work pays off!
"My first year at Emmanuel, my Indoor Track team won our GNAC conference meet in 2020. My team was so happy and proud of each other for what we had accomplished together." - Molly Winship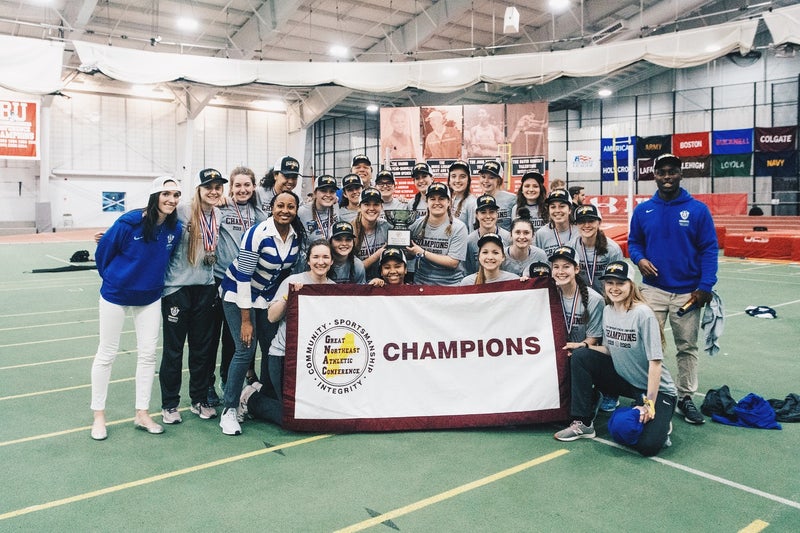 Brianna Chu '23
Swinging into friends at Lawn on EC
"This picture was taken at Lawn on EC back in 2021. It was one of the first events after coming back from the virtual semester, so everyone was really excited to see each other! My friend Kayla and I went around to all the little activities they had at Lawn on EC which included the light up swings, axe throwing, and bull riding! It honestly felt like we never left!" - Brianna Chu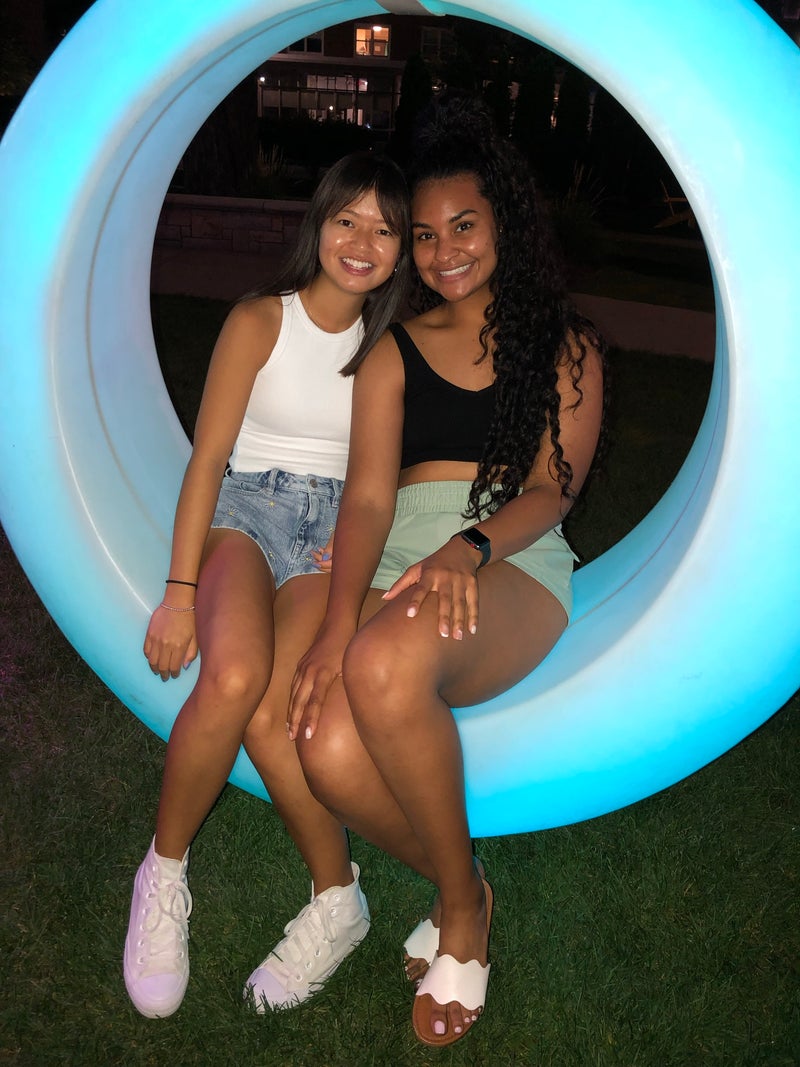 Christian Bettinelli '23
From Boston to Orlando
"My time at Emmanuel has been what I would consider some of the most beneficial, memorable, and enjoyable years of my life. Although I will miss calling 400 Fenway my home, I am so excited for what is next to come with an opportunity working for The Walt Disney Company. I will never forget the moment I got the email that I got the role and celebrated with my friends on campus!" - Christian Bettinelli '23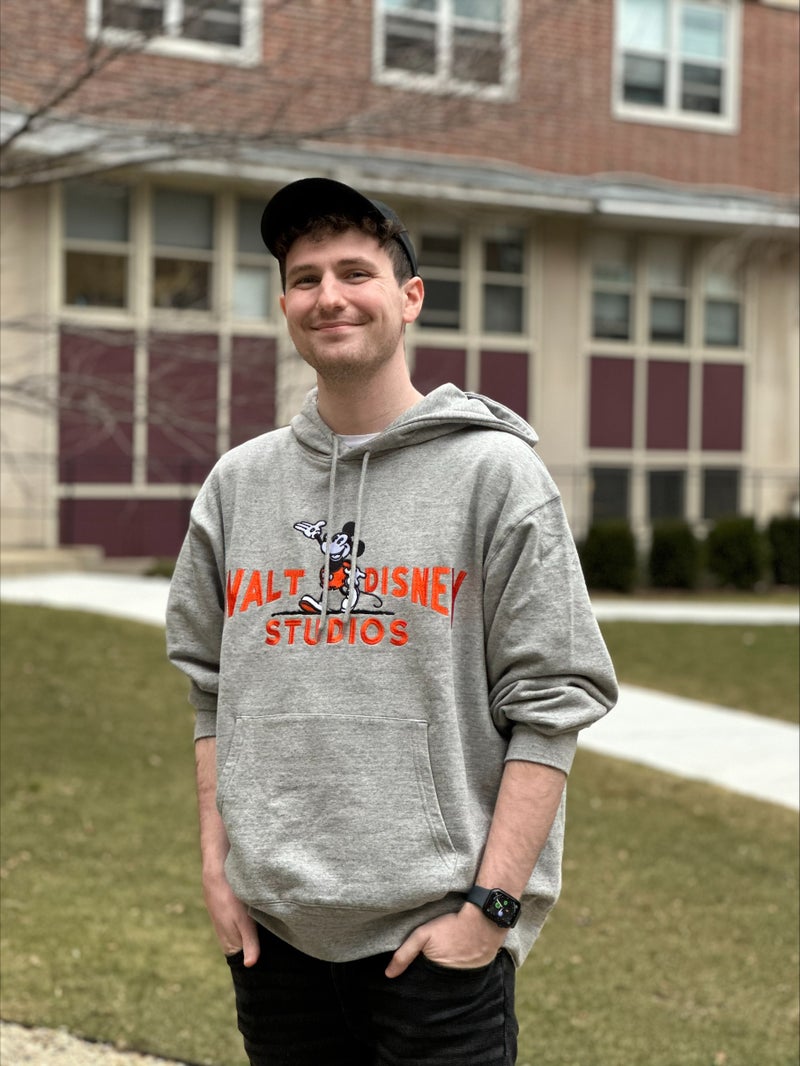 Residence Life Mission Statement
The Office of Residence Life and Housing provides clean, well maintained and properly staffed facilities, which promote a living and learning environment that is safe, just, and developmental. The staff offers students opportunities to explore new experiences, enhance personal growth, explore and build new relationships, and play an active role in celebrating and promoting the ideals of a Catholic community.