We're steps from cultural sights, world-renowned hospitals, and Fenway Park.
The World's Greatest College Town
The World's Greatest College Town
From leading healthcare organizaitions and storied cultural institutions to music halls and some of the best food in the country, you can find it all in the Fenway.
Boston is consistently named one of the top cities for work, simply because it's a hub for everything—art and culture, healthcare and life sciences, finance and fintech, sports and entertainment, tradition and innovation, education and more.
Boston Children's Hospital
Beth Israel Deaconess Medical Center
Brigham & Women's Hospital
Dana-Farber Cancer Institute
Fenway Park/Boston Red Sox
Harvard Medical School
Merck Research Laboratories Boston
Boston Medical Center
Brown Brothers Harriman
Deloitte
EY
Fidelity
Genzyme
Gillette (Global Headquarters)
GBH
KPMG
Liberty Mutual
Massachusetts General Hospital
Massachusetts State House
New Balance (Global Headquarters)
Pearson
PUMA (North American Headquarters)
PwC
State Street Bank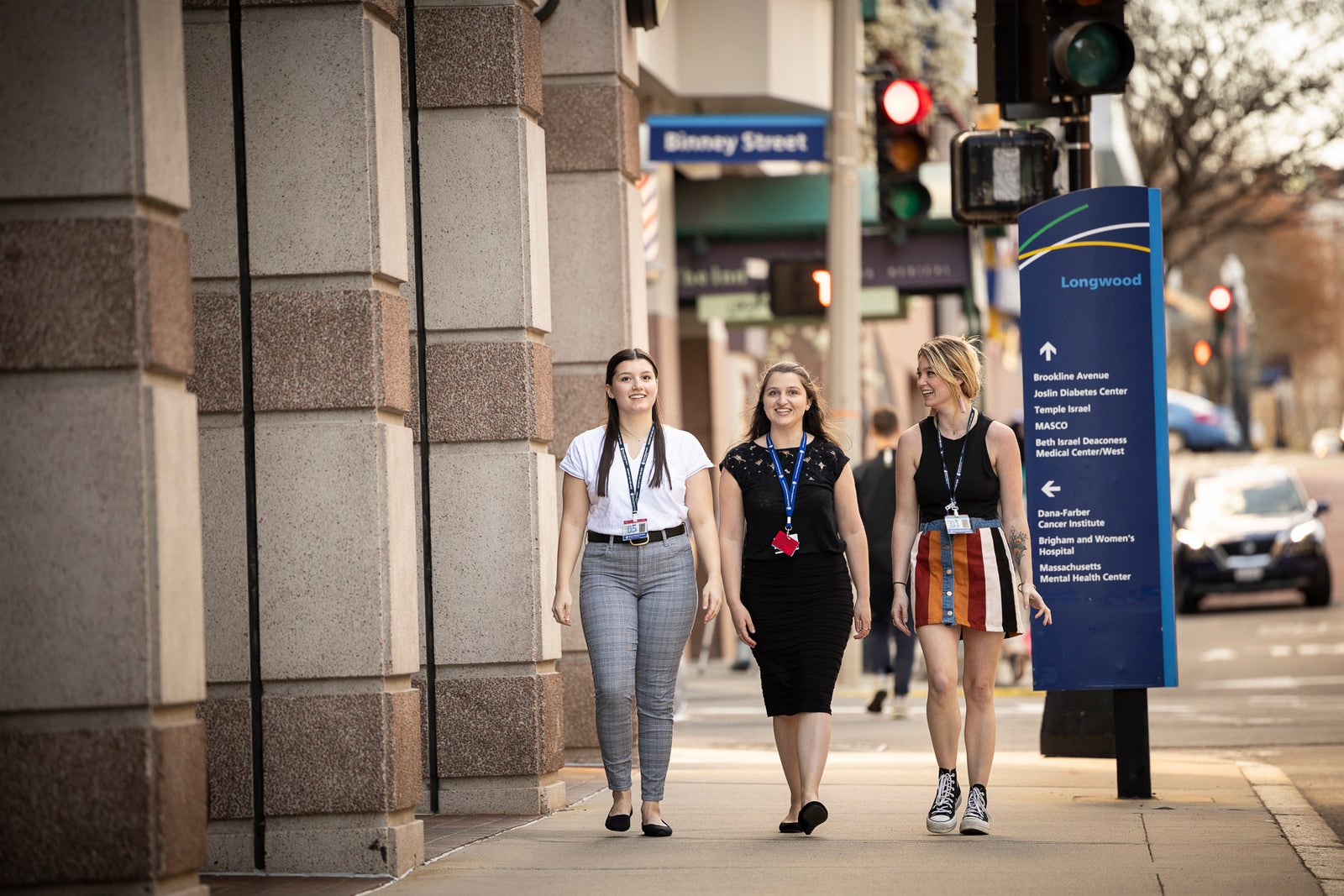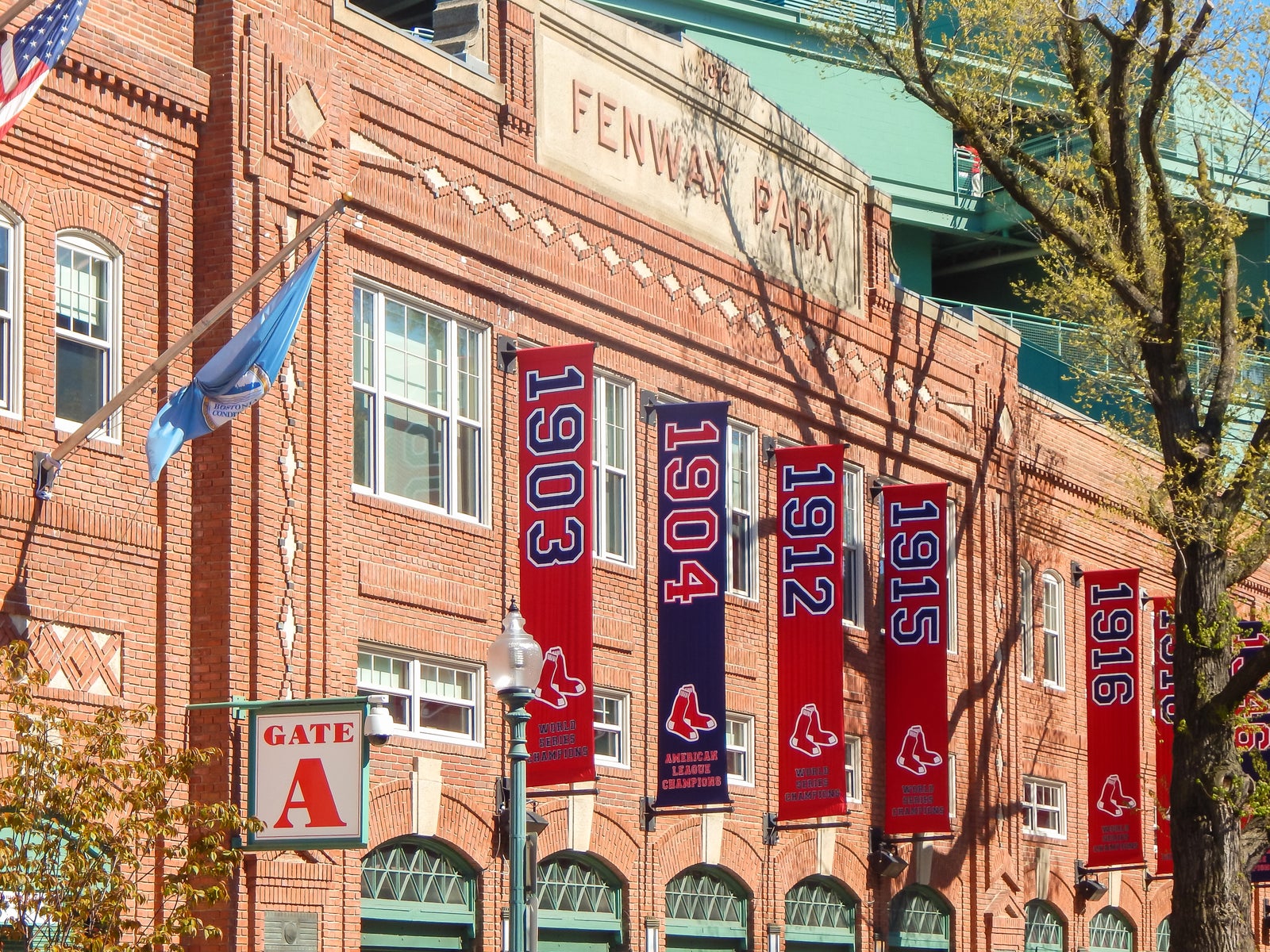 From hearing your favorite bands at and seeing world-famous art to breaking a sweat and getting your dorm necessities, check out what the Fenway (and the rest of Boston) has to offer.
Blick
CorePower Yoga
Fenway Park
The Green at 401 Park
Guitar Center
Handle Bar
House of Blues
Isabella Stewart Gardner Museum
MGM Music Hall at Fenway
Museum of Fine Arts Boston
Sephora
Target
Boston Common/Public Garden
Charles River Esplanade
Fanueil Hall Marketplace
Institute of Contemporary Art
Museum of Science
New England Aquarium
Roadrunner Music Hall
Seaport
Symphony Hall
TD Garden
Theater District
Boston was named by US News as one of the Best Food Cities in the U.S. (2023), and we're proud to have all these neighborhood favorites less than 10 minutes from campus.
Basho
Blackbird Doughnuts
Blaze Pizza
Caffe Nero
Cava
Chipotle
Citizen Public House
El Pelon Taqueria
Eventide
FOMU
Loco
Pavement Coffeehouse
Pressed
Regina Pizzeria
Saloniki
Starbucks
Sweet Cheeks Q
Sweetgreen
Tasty Burger
Tenderoni's
Ten One Tea House
Time Out Market
Wahlburgers
Yard House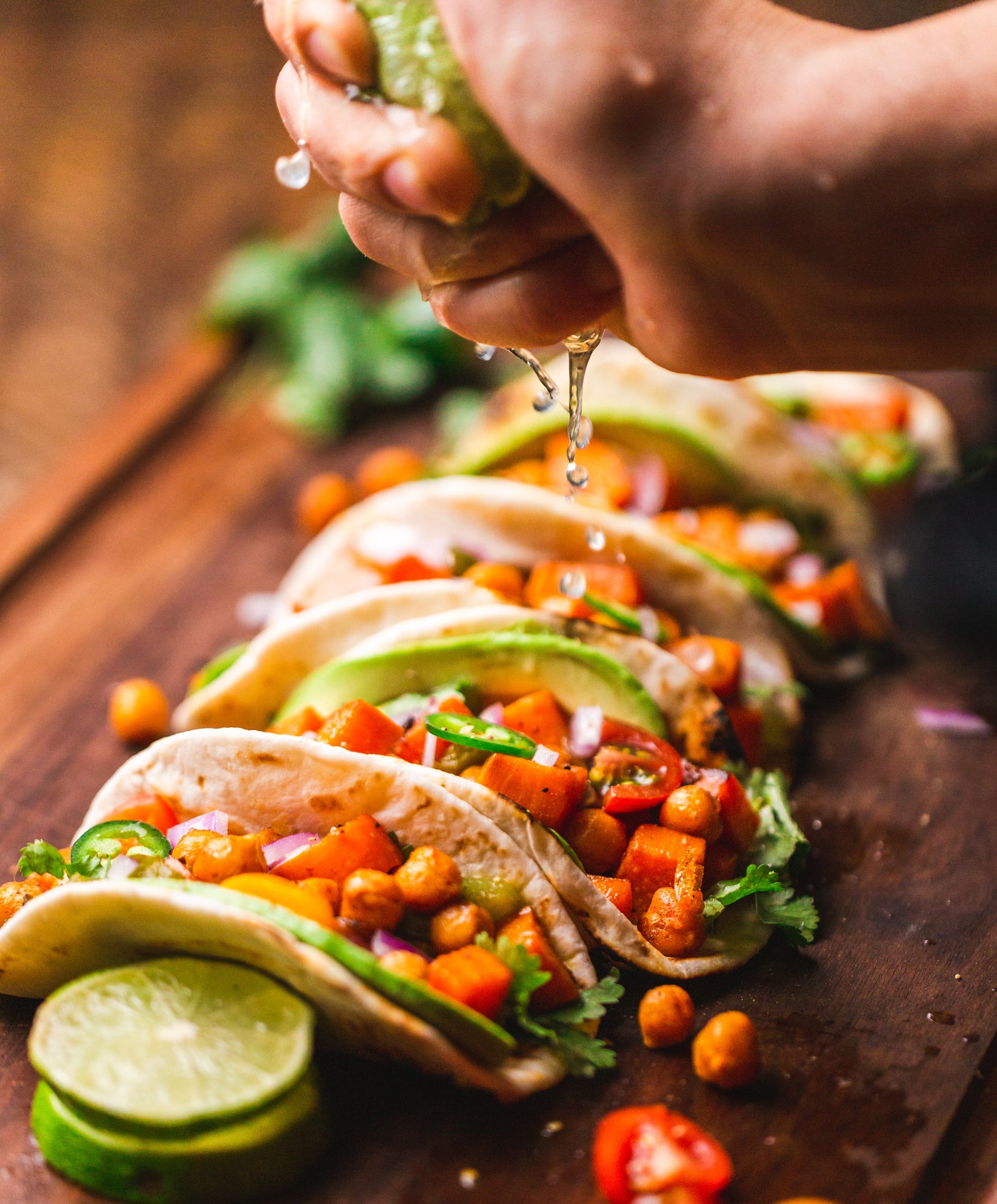 Colleges of the Fenway (COF)
Our five-college consortium lets you cross-register and enjoy perks from other neighboring colleges.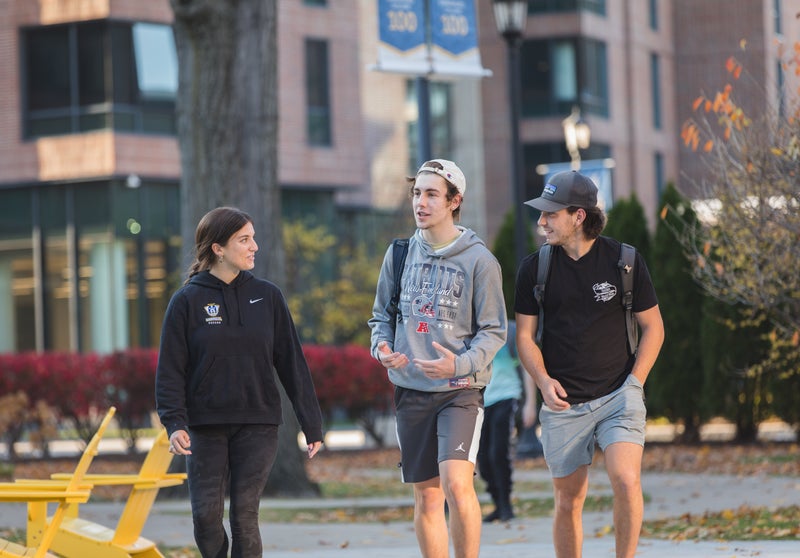 Boston, You're Our Home
Kasey Jiang '23
Fun Adventures in the City
"One example of many of the times I went on fun adventures with a friend/friends. My friends and I went around Boston and walked around the Boston Common and Garden then came back took this picture of my friend and I around Fenway". - Kasey Jiang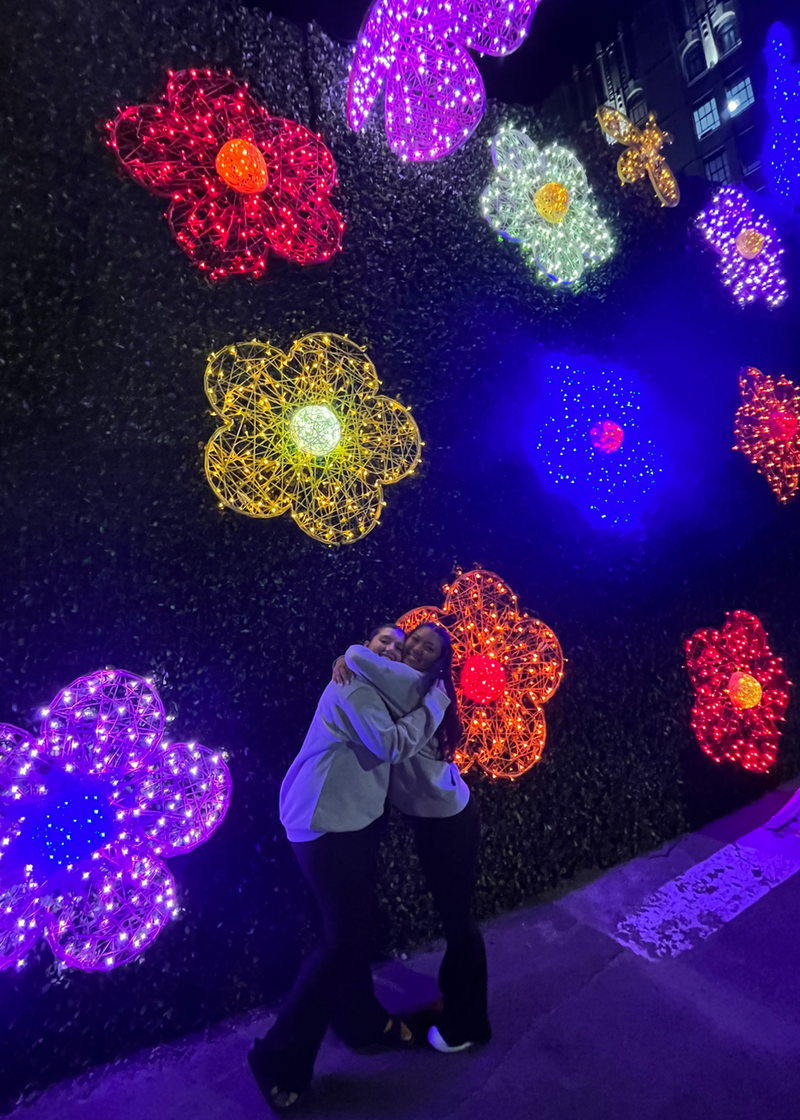 Gwen Freeman '23
Spring has Sprung in Boston!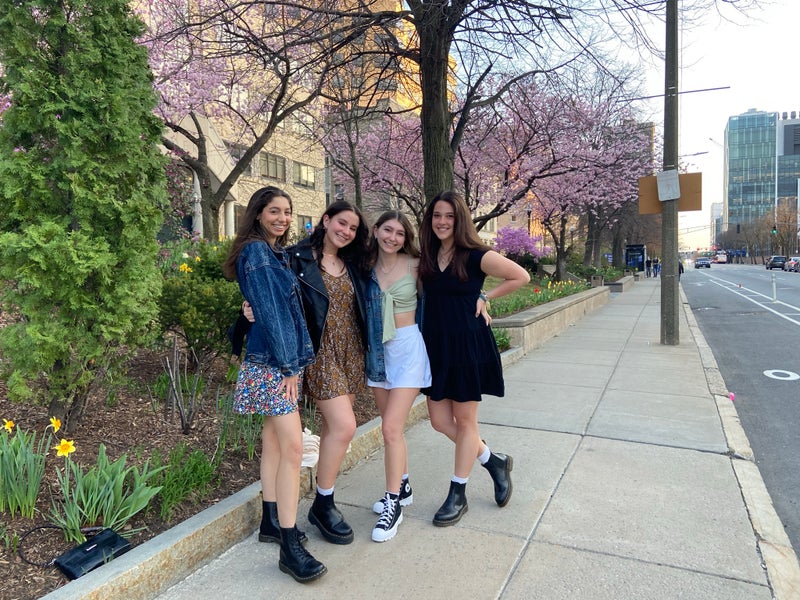 Natalie Massey '21
Go Sox!
One of my fondest fall memories at EC was getting tickets to a Red Sox game in September with a bunch of my friends! It was so fun to be together and be a part of a huge tradition that comes with being in Boston, cheering on the Sox!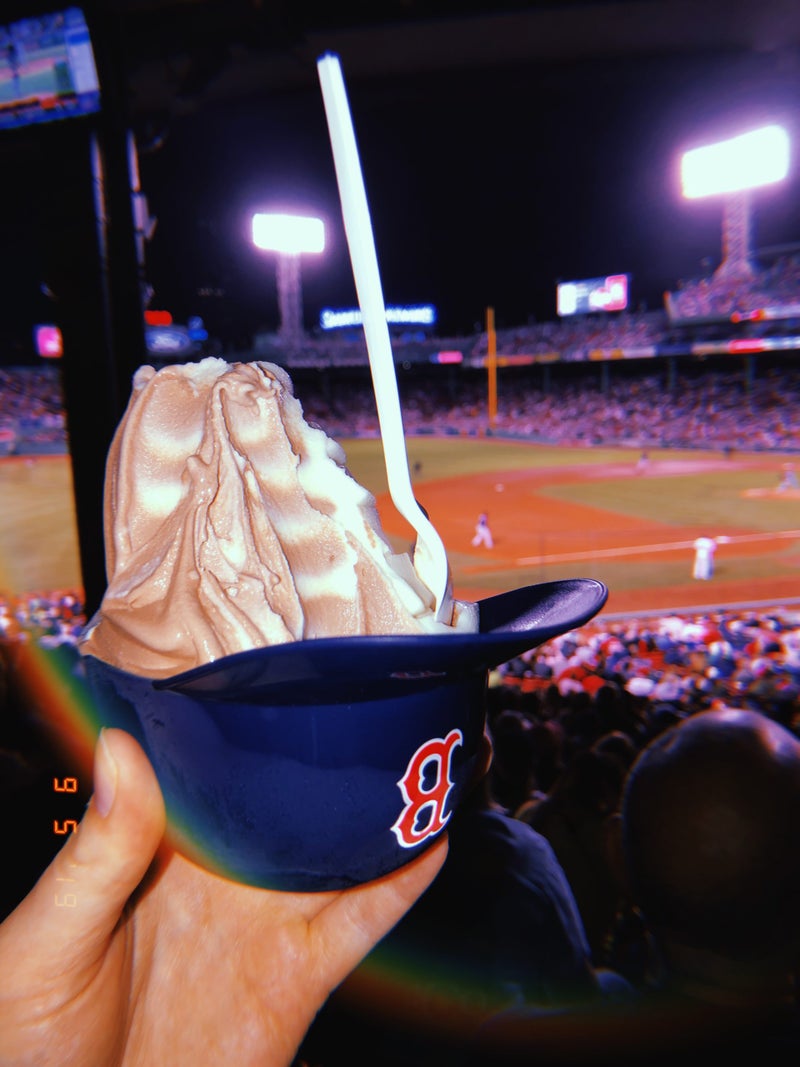 Amena Hamdi '23
Tourists for a Day
My favorite memory of my first year on campus was the day my friends and I went for a photoshoot after our classes. We all got dressed up and had a tourist day during the Fall semester so we could see what was around campus. Rather than choosing destinations we just walked. In our time out we managed to hit a majority of the tourist spots in the EC area. During our little adventure we saw the Prudential Center, the Boston Public Library, Newbury Street and Fenway Park. The next day our feet had been a bit sore, but that was nothing a little girls night in couldn't fix. In the end we got super cute photos, a little taste of what Boston has to offer, and an unbreakable bond with new friends, which is all I could ever ask for.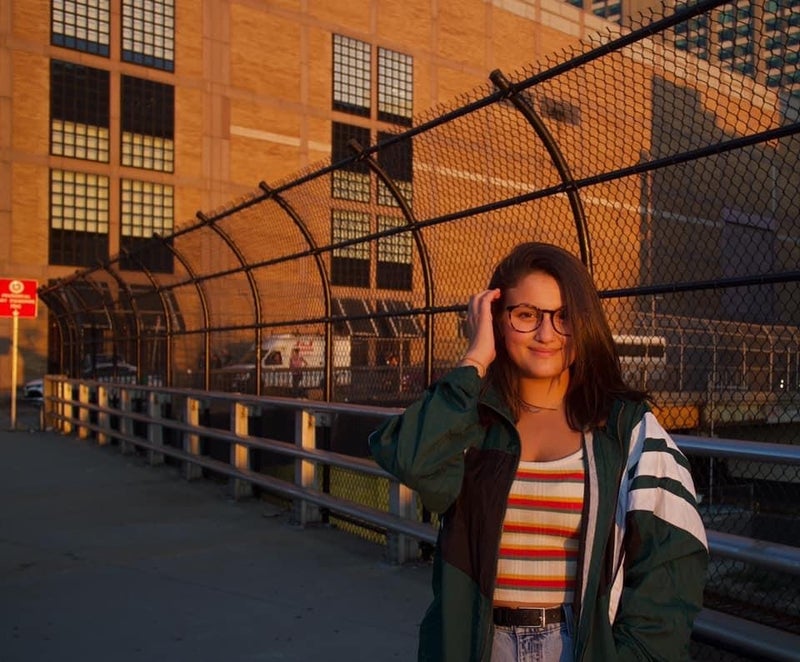 Ruby Roberge '23
Christmas in Boston
My first year at Emmanuel has brought so many great memories. Most of my memories have been with the great friends I've made here. One specific memory with my friends here was when we went out and explored the city before we all went home for Christmas break. We had planned a secret Santa between us but decided to go out to dinner off campus before. It was great to get off campus and explore the city, especially when it is all lit up for the holiday! In the Faneuil Hall area there were street performances that we stopped and watched and just enjoyed our time off campus. It was a great way to end the semester and escape the finals season before we all went home for break!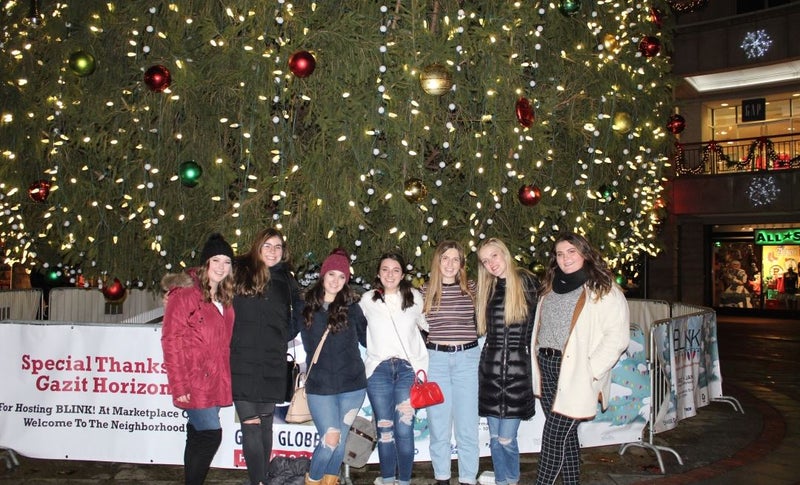 Natalie Massey '21
Museum Time
As a student at Emmanuel, you get free access to both the Museum of Fine Arts and the Isabella Stewart Gardner Museum! I take advantage of this a lot with my friends and we enjoy the beautiful garden and amazing artwork on display at the Isabella Stewart Gardner.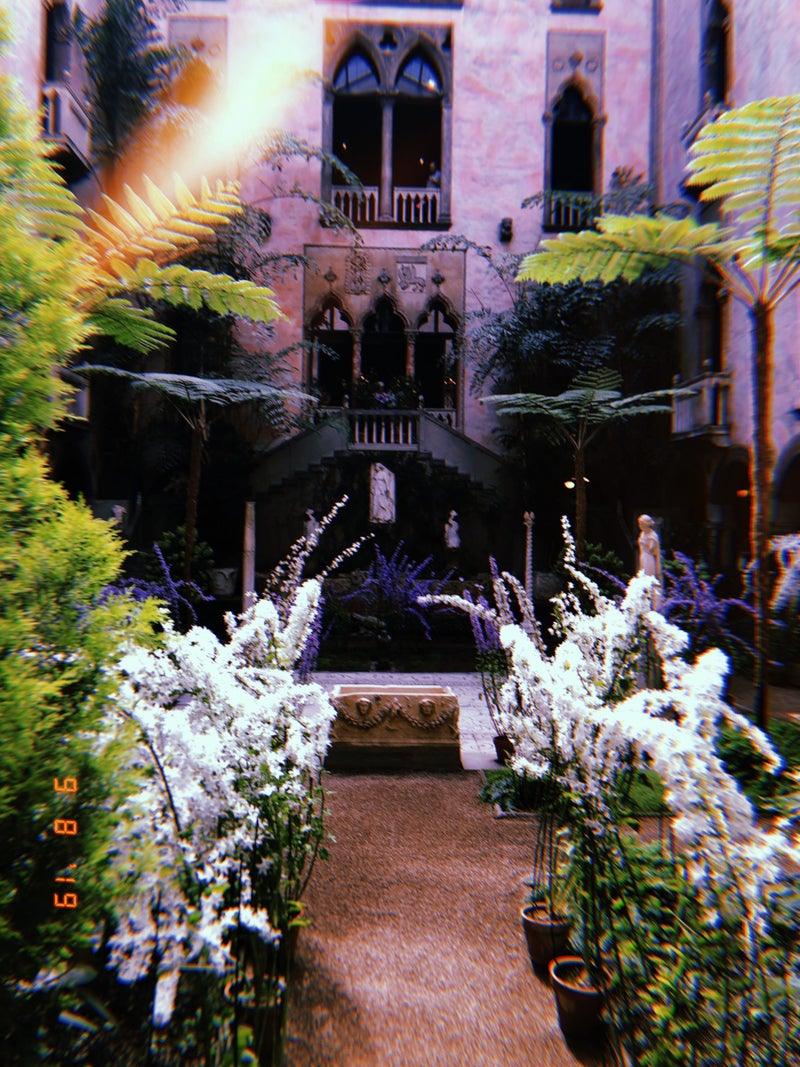 Aspyn Bean '23
SOWA Winter Festival
My favorite memory of my first year on campus was exploring Boston and trying all different types of food. I loved walking around Boston; either to the Boston Public Library on a sunny day, just down the street along the Muddy River, or around the South End at the Winter Festival. There was always something to do and new to eat.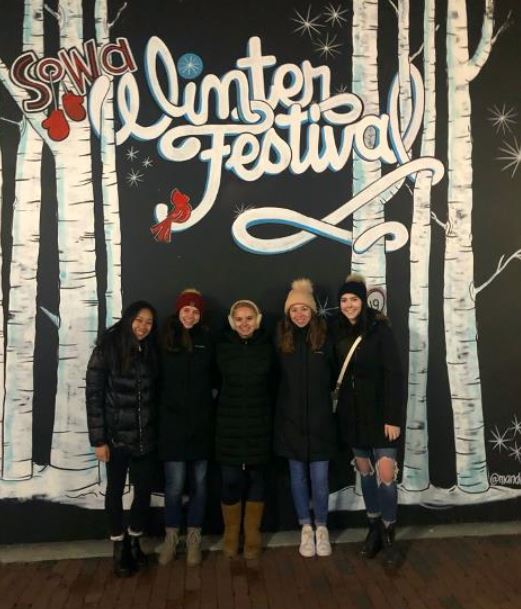 Emily Borges '23
Let's Goooooo!
Can never miss a Celtics game!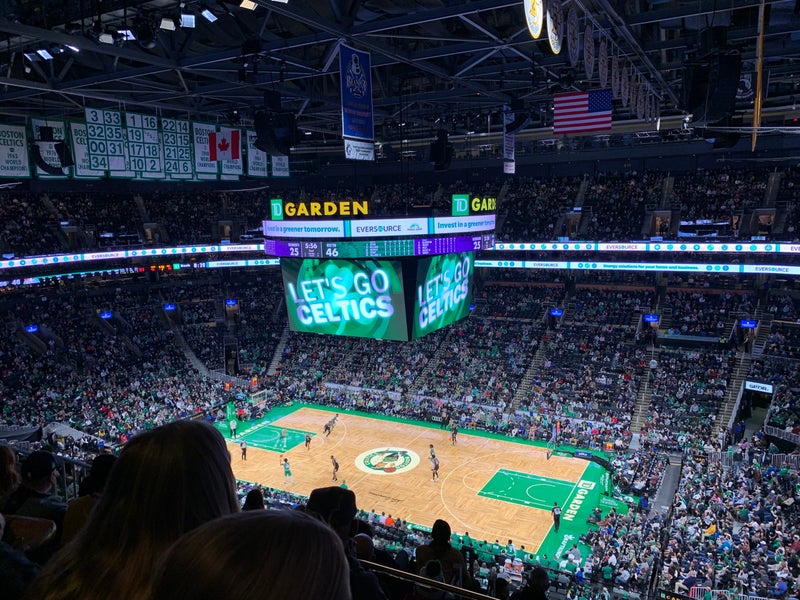 Gabrielle Lara '22
A Whole City Within Reach
My favorite thing to do around Boston is definitely explore the city with my friends. Whether it's going to Red Sox games with my friends, grabbing a coffee at Tatte or walking around Newbury Street, I love that we have the whole city of Boston at our reach.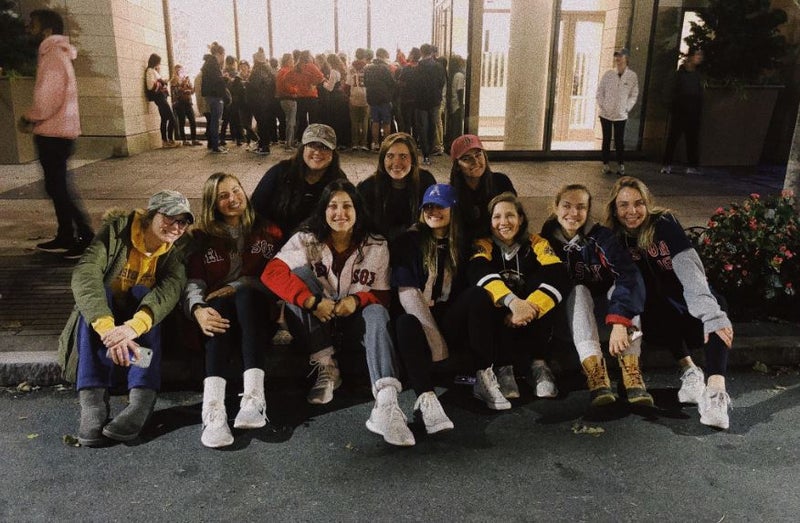 Julia Pellizzaro '24
Best friends exploring Fenway
"Walking around Fenway with my roommate Sam, who has been my best friend since we met freshman year!" - Julia Pellizzaro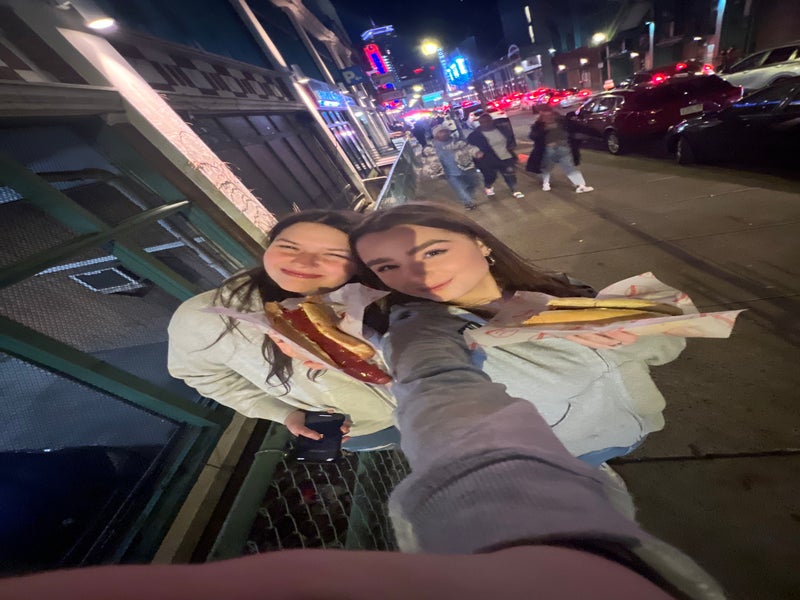 Julia Sena '23
Skyline views
Views from the 14th floor of Saint Julie Hall!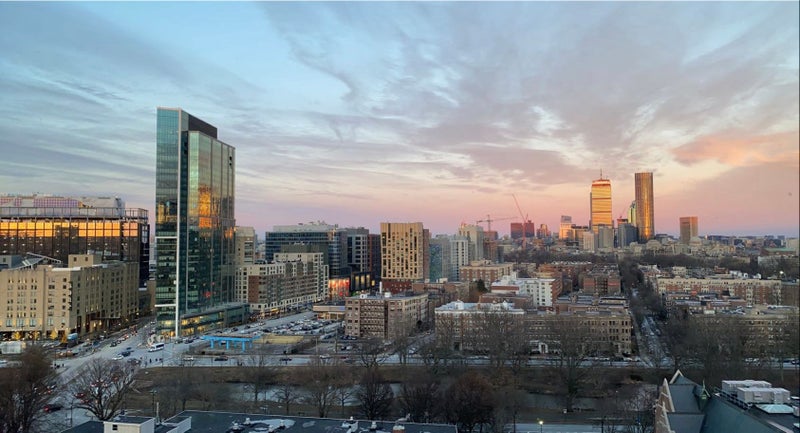 Peter Avila '23
Late night pizza runs!
"Always loved late night snacks at College Pizza!" - Peter Avila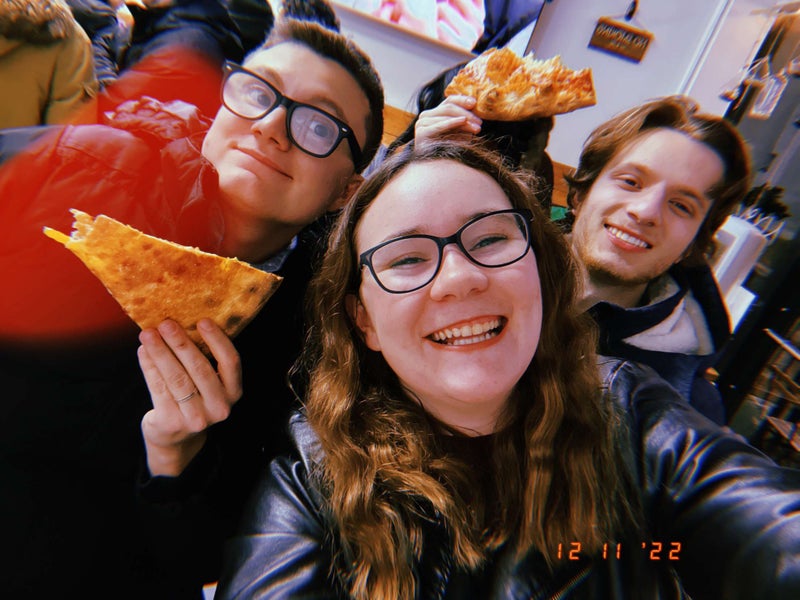 Daniel Impellizzeri '23
Ice Skating!
Within steps of campus are exciting things that the city offers, like an outdoor ice-skating rink outside the Time Out Market!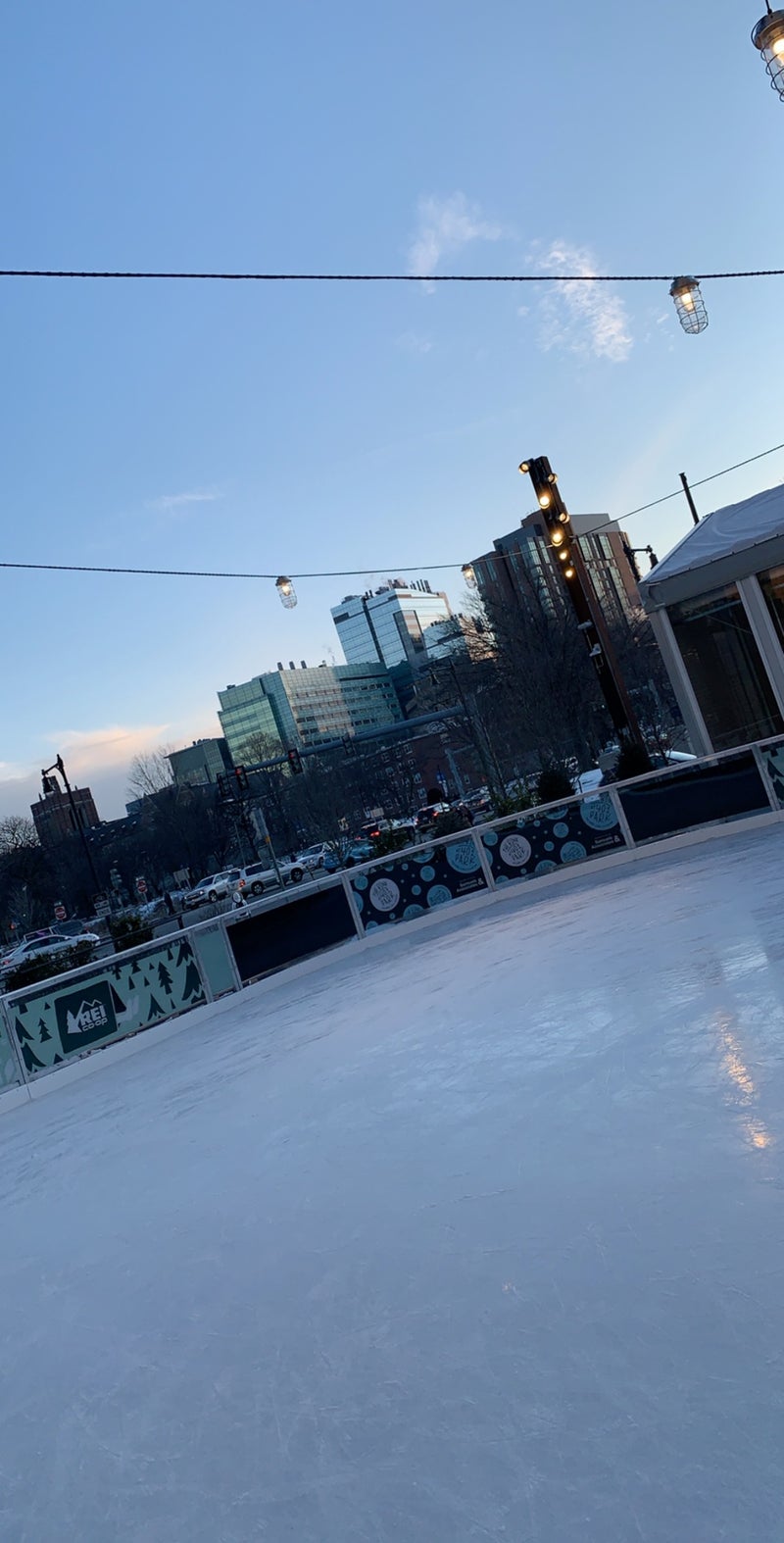 Maeve Grattan '23
Street Art in Cambridge
We walked by some cool art on our way to Cambridge for dinner. It's just a T ride away!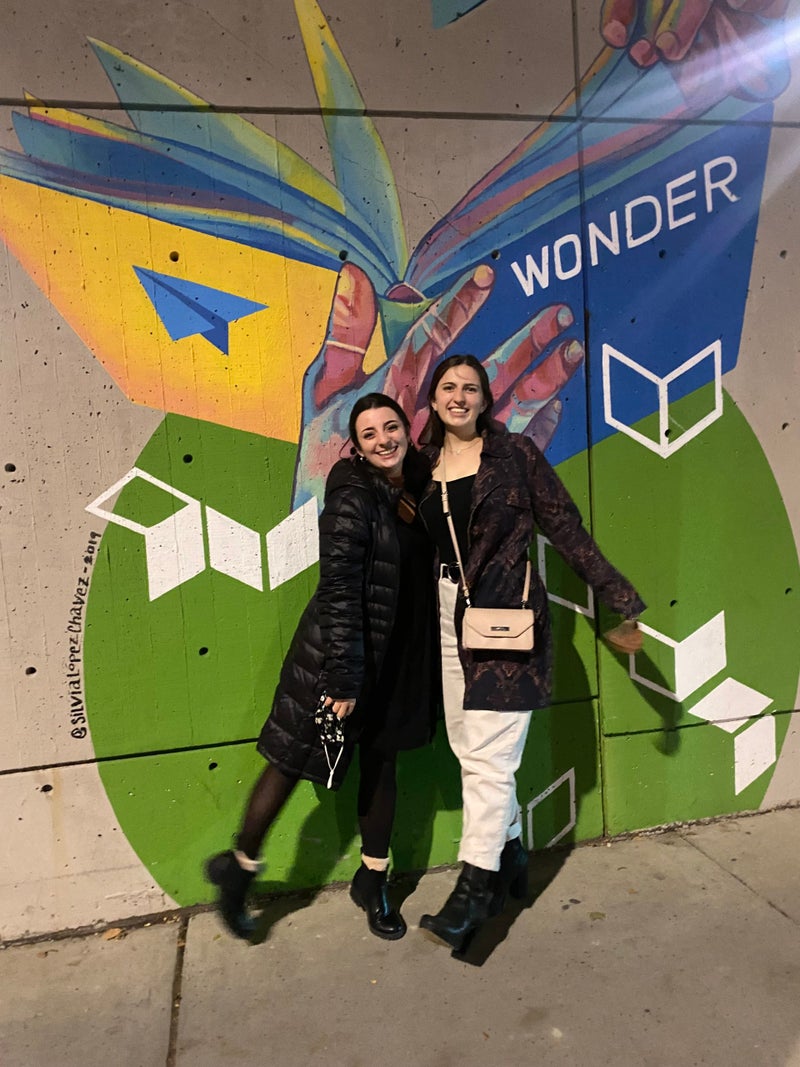 Andrew Kalpakian '21
Checking out Fan Pier on the Harbor
I love going to Fan Pier Park in Boston's Seaport District. There is a pavilion roof deck that has amazing views of the harbor.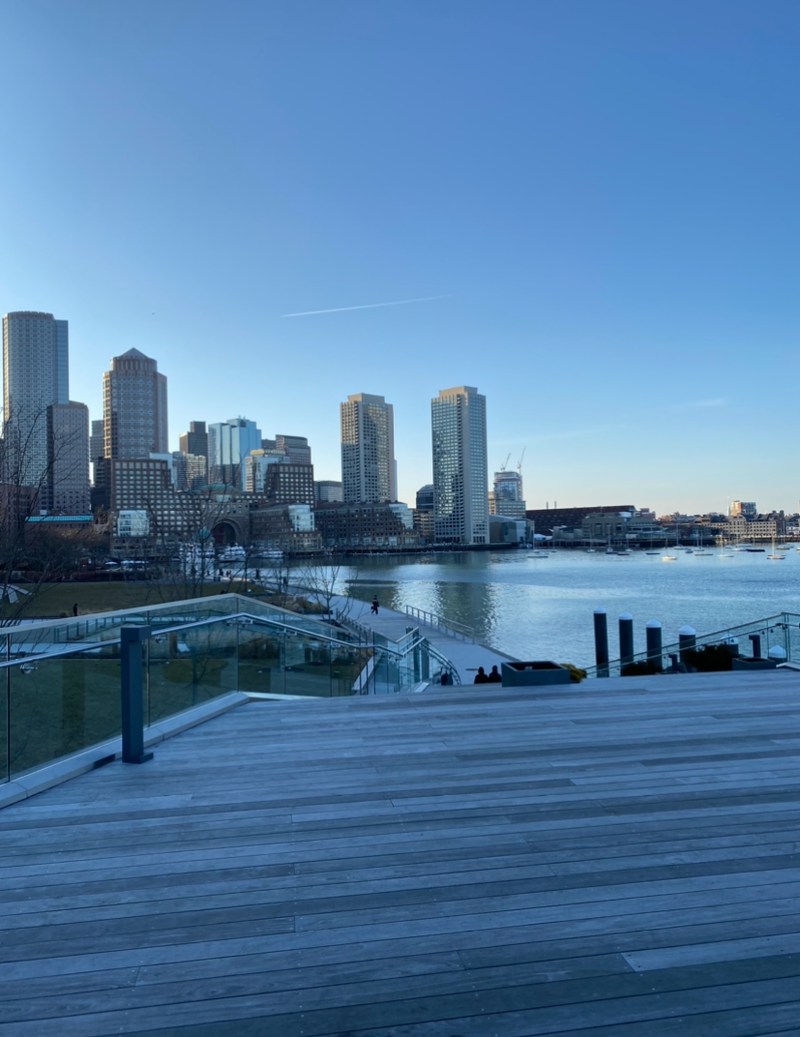 Andrew Kalpakian '21
Star Sighting!
You never know who you'll meet in the city. This is a pic of me and Red Sox star Xander Bogaerts after a Major League Baseball playoff game.