The humanities and social sciences provide us with a broad understanding of key historical, geographical, political, cultural and societal issues that help us think critically, communicate effectively, and participate as informed citizens.
The School of Humanities & Social Sciences' academic departments—with undergraduate disciplines ranging from graphic design and history to English, political science, and a number of unique interdisciplinary programs—offer a diverse range of scholarship complemented by hands-on, real-world experience and a global perspective.
In both teaching and research, faculty in the School address timeless questions about the human condition and promote new ways of thinking on current pressing social issues. You will engage in intellectual debate, robust communication, skillful collaboration, and creative activity. These skills enable our graduates to translate their talents and training into meaningful work that benefits their communities and the wider world.
>40
Full-time Faculty Members
96%
of 2021 grads employed within 1 year
Explore timeless questions and new ways of thinking.
Beacon Hill to the Innovation District
A diverse and dynamic city
Boston is home to the hub of Massachusetts government, some of the country's most famous art and cultural institutions, and the ninth-largest media market in the United States.
Explore the depths of your discipline
As early as your first-year, chart your academic interests through in-depth research projects alongside faculty or to receive Distinction in the Field of Study upon graduation.
Our McCafferty Career Center has designated career communities Creative Arts, Design & Media, or Public Service, Law & International Relations, with recruiting opportunities and events to build networking skills.
In the Criminology & Criminal Justice (CCJ) program, examine the causes and consequences of criminal behavior.
Hone your artistic vision
Emmanuel's Art Department has state-of-the-art studios across mediums, including drawing, 2D and 3D design, ceramics, printmaking, photography, painting and digital media.
Enhance your on-campus experience through a faculty-led travel course, spending spring break in Ireland, summer in Greece or a few weeks engaging in service-learning in South Africa.
The Faculty Difference
Get to know the mentors, colleagues and champions who will support your academic and professional journey.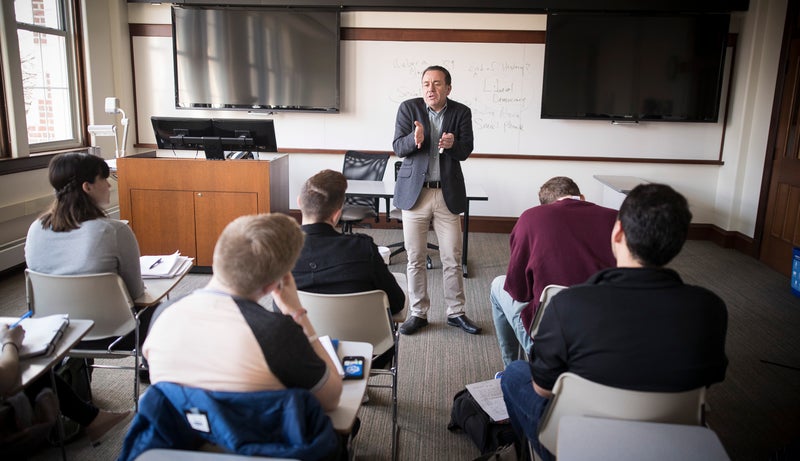 Our Faculty
Our distinguished faculty publish, exhibit and research. Present, compose and chair. Inspire and collaborate.