Success in today's business world is about creating both social and economic value.
Guided by the engaged and accessible faculty within the School of Business & Management, Emmanuel students become socially responsible leaders, innovative thinkers and ethical decision makers with a strong foundation in academic theory and an application to the real world.
The School's rigorous and relevant undergraduate programs in accounting, economics, finance, management, marketing and sport management reflect the reality of today's dynamic markets and the need for integrated approaches to problem-solving. Through an emphasis on collaboration and hands-on experience in the city of Boston, students gain a deep knowledge of business fundamentals, and graduate with the technical expertise and moral compass needed to be a responsible leader.
Master's programs and certificates in management, human resource management and research administration prepare students to advance their careers and translate our community's commitment to innovation and ethical action in the surrounding business community.
16
Undergraduate Disciplines
An Innovating and Supportive Community of Teaching and Learning
400 The Fenway, the Heart of Boston
400 The Fenway, the Heart of Boston
With its robust economy, Boston offers an array of career opportunities across various industries. Many leading companies have headquarters or major operations in the city, providing a strong internship and job market for business students and graduates.
Rooted in mission
The School of Business & Management translates Emmanuel's commitment to ethics and social justice into its curriculum so students know that organizations, whether for profit or not for profit, can do well by doing good.
A personalized approach
Students in both our undergraduate and graduate programs have access to resources across campus, from academic and career advising to reference and research services and writing assistance.
Get a head start
With our early-entry program, undergraduate students may begin taking graduate coursework during their senior year at no additional cost.
A dedicated Career Community
A dedicated Career Community
The McCafferty Career Center's Career Community in Business & Management helps you connect your major to an industry, attend industry events and access targeted internships and job postings, allowing our employer partners to easily recruit students who have the skills their company is seeking.
What's new and now
The School of Business & Management offers leading-edge and in-demand programs, with new majors and minors in computer science, sport management, data analytics, digital marketing and a biotechnology concentration within our management major.
The Faculty Difference
Get to know the mentors, colleagues and champions who will support your academic and professional journey.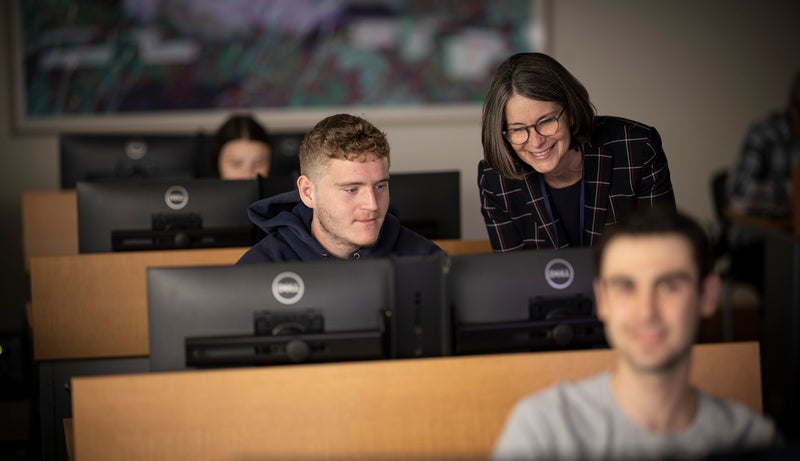 Our Faculty
Our distinguished faculty publish, exhibit and research. Present, compose and chair. Inspire and collaborate.